Are you tired of seeing unsightly tree stumps in your front yard? It's time to take action and get them removed. Ed's Tree Service provides stump removal, large or small, for College Park, Maryland.
Stump removal involves using heavy machinery to remove the stump from the ground. The process and machinery used will vary depending on the size of the stump. For larger stumps, we use a larger removal machine, while smaller stumps require a different approach.
What does stump removal look like before and after?
To give you an idea of what to expect, here is a before and after photo of a stump removal service provided by Ed's Tree Service.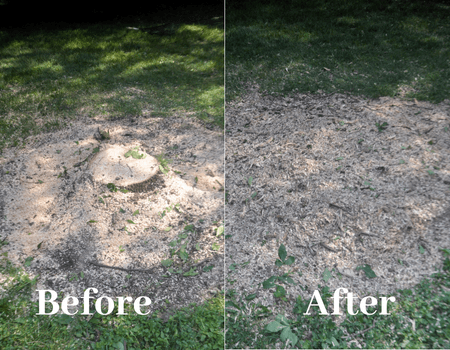 What stump removal and grinding services does Ed's Tree Service offer in College Park, MD?
In addition to stump removal services, we also offer stump grinding services in College Park, MD. Here's a rundown of how stump removal works depending on the size of your stump:
Large stump removal: There are different ways for professionals to remove large stumps. At Ed's Tree Service, we bring the machinery to your property trailered by a pickup truck. Our driver will carefully back the truck and stump removal machine across your yard to reach the large tree stump. We will grind the stump down 12 inches below the surface to effectively destroy the roots.
Small stump removal: For smaller stumps, we use smaller self-propelled machines that can fit through 36-inch-wide openings. These machines can grind stumps down 2-6 inches below the surface.
Can I remove stumps myself?
Removing stumps by yourself is possible, but it can be EXPENSIVE and DANGEROUS. You would have to invest in stump removal machinery unless you do it by hand. If you do it by hand, you might miss the tree roots as well as injure yourself. It is also very dangerous since you are unfamiliar with the machinery as well as it is hard manual labor.
We recommend leaving this task to our licensed stump removal specialists, who have the experience and equipment to get the job done safely and efficiently.
If you're interested in stump grinding or stump removal services in College Park, MD, please visit our website or call us at 301-937-6269. Our team at Ed's Tree Service is here to help you get rid of those unsightly stumps and improve the appearance of your yard.