Beautifying Your Garden, One Stump Removal at a Time
When a tree falls or is removed, the remaining stump can be unattractive. Ed's Tree Service offers licensed, professional tree removal and stump grinding with minimum disruption to the surrounding yard.
Our Stump Removal Process:
Efficient and effective stump removal service requires several steps as well as the right skills and equipment. It's our environmentally friendly practice to let the resulting mulch replenish your soil, unless you prefer for us to haul the mulch and replace it with topsoil and seed for an additional charge.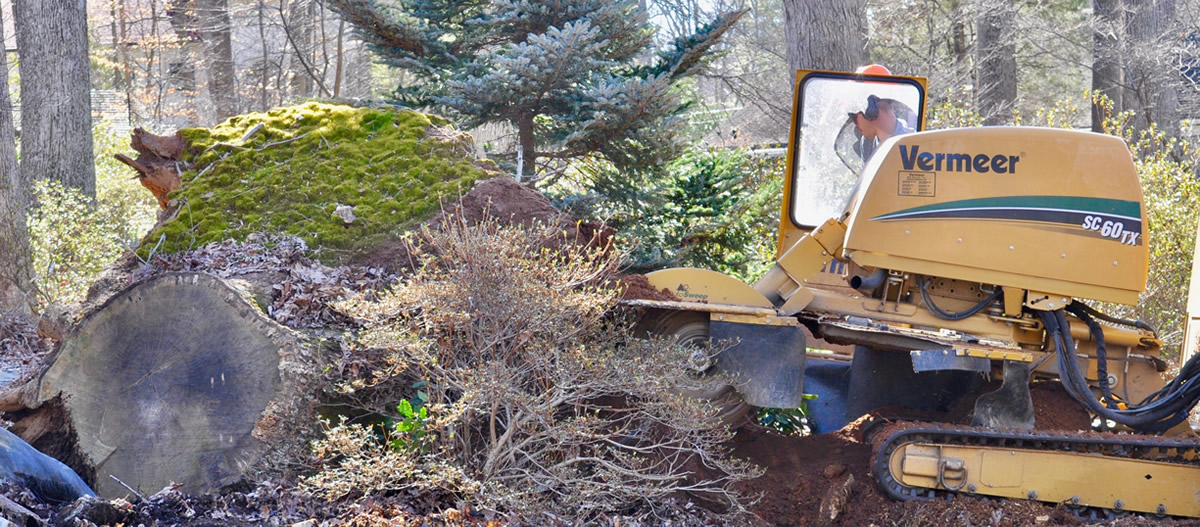 Professional Tree Removal and Stump Grinding Services in Maryland & DC
Tree stump removal machines are the key to efficiently grinding stumps into mulch, and we use different machines for different jobs.
You can expect any stump removal process to include grinding the stump itself plus an additional foot of surrounding ground in order to reach larger underlying roots.
If needed, we will grind larger areas to remove unsightly or annoying surface roots as well.
Once we grind the stump into mulch, we use that mulch to back-fill the hole.
Over time, the stump mulch will settle back into the ground and nourish the soil.
If you prefer, we will remove the ground stump mulch and replace it with topsoil and seed for an additional charge.
When the professionals at Ed's Tree Service remove a stump, you can trust that we will be thorough, respect your property, and provide superior service from start to finish.
Large Stump Removal: A large stump removal machine arrives at your property trailered by a pickup truck. Our driver will carefully back the truck and stump removal machine across your yard to reach a large stump, and then we will grind the stump down 12 inches below the surface to effectively destroy the root ball.
Small Stump Removal: Smaller stump removal machines are self-propelled and do not need to be moved into place by a pickup truck. The machines are also designed to fit through 36-inch-wide openings and will grind smaller stumps down 2-6 inches below the surface.
---
Do you need a stubborn and unsightly stump removed from your yard?