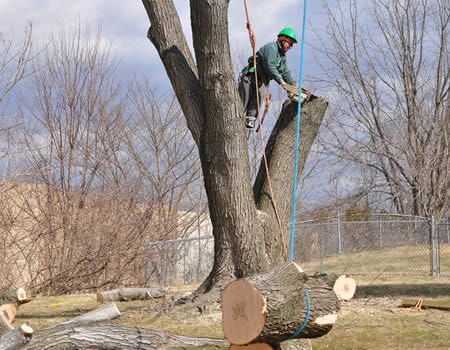 When a tree falls on your property you may wonder what to do next, especially when it's caused damage to an existing structure such as your home. The experience is alarming, unexpected, and stressful. If a tree falls on your property let the experts at Ed's Tree Service help get you back to normal.
We know how hard it can be to deal with a tree falling on your property and even more so your home. Our experts will assess the situation to carefully remove the tree without causing further damage to your home. We can also help by contacting your insurance company for you to explain the situation and make the process even more stress-free. In some cases, we're even able to bill the insurance company directly leaving you with one less piece to deal with.
Our team is fully licensed and insured so you trust us to get the job done right. We have decades of experience and have handled both large and small scale projects from emergency tree removal to quick tree trimming. No matter your project we're ready to help.
Read a review from one of our recent customers:
"The crew arrived on time (about 10min.earlier than expected). They were armed with a detailed work list that covered every tree and bush viewed at the estimate walk thru. They were like a well-organized squad of marines. Each member had an assigned job and moved directly to the task. As each task was finished we reviewed it together. Clean up was on going and the total job was completed in about an hour and 45min. Ed's Tree Service is an experience, professional service that does excellent work. I recommend them and will continue to use them."