Has a tree fallen after a winter storm, and you need it removed ASAP? If so, Ed's Tree Service experts are the ones to call for emergency tree removal in Chevy Chase. No matter how big or small, we're here to relieve your stress and remove your trees in a timely manner.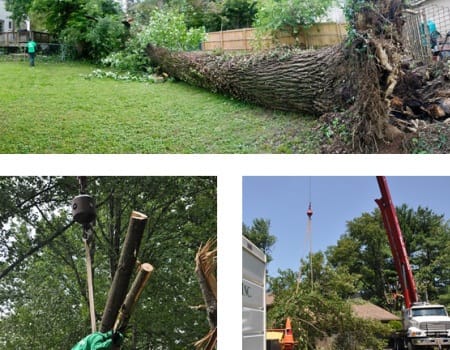 Ed's Tree Service works to provide top-quality tree care for its Chevy Chase customers, especially in the aftermath of a fallen tree. We are proud to be recognized as a reputable tree service company in the area and are fully licensed and insured to assist with whatever emergency tree removal services you may need.
All Maryland tree service companies must be licensed and carry both liability and workman's compensation insurance. Our co-owner Alice Fernandes holds our license (#557). If needed, we will have the insurance company mail or fax a certificate of insurance to verify our liability and workman's comp coverage.
4 Things You NEED to Know Regarding Insurance & Emergency Tree Removal in Chevy Chase
Below are some General Insurance-related Guidelines for Storm Damage to Consider:*
Insurance policies typically cover all or part of the cost of removing trees or branches from your home or other structure/building after it has fallen from a storm.
Insurance policies do not cover trees and branches that fall on lawns, driveways, or bushes.
If your healthy tree or its branches fall on a neighbor's property during a storm, you are not responsible for the damage it causes.
If your dead tree or its branches fall on a neighbor's property, you will be liable for the damages due to negligence.
*Review your specific policy coverage to confirm or contact your insurance provider if you have questions; your insurance coverage may differ.
Our expert tree removal estimates can help speed up the payment authorization from your homeowner's or business property insurance after a tree has fallen.
Below are some of the steps we take to help this process remain as stress-free as possible for you:
Contacting your insurance agent
Explaining the situation
Getting approval
Billing your insurance company directly, if possible, to avoid out-of-pocket expenses
"Let me just add to the other reviews in saying that we too had an excellent experience dealing with this company. We had a massive tree split last month and Ed's was prompt and professional, unlike other companies which advertise themselves as 24 hour emergency response companies. We were sad to lose that beautiful tree, but Ed's relatively quick actions made a bad situation a little easier to bear." – Debra

When Ed's crew does the job, it always goes well. They arrived on time and were very competent and professional in the way that they did the work. They are easy to talk to, and they take care to do everything correctly and to clean up after the job is done. — H.Marsh