Ever wonder what happens to the stump after the tree gets removed? Ed's Tree Service is here to help! We offer both small and large stump removal to ensure that your yard always looks exactly how you want it to.
How Does Tree Stump Removal in Rockville, Maryland Work?
There are several steps involved in ensuring that your stump removal is an efficient and effective process. Most importantly, this involves the correct skills, equipment, and education that only arbor-care experts have. It can be very tempting to try and remove tree stumps yourself, but it's important to hire licensed professionals, such as Ed's Tree Service, to do it instead.
Additionally, it's environmentally friendly to let the resulting mulch replenish your soil unless you prefer for us to replace it with topsoil and seed, which is also okay.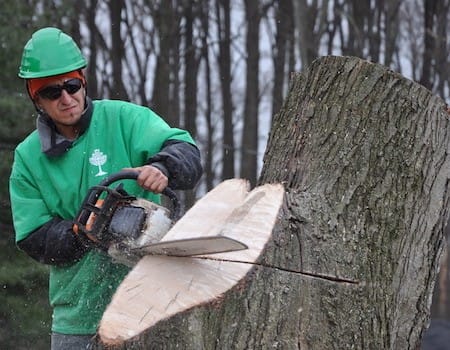 The Rockville, MD Tree Stump Removal Process
Our services include both large and small stump removal, depending on the size of the tree(s) you had removed from your property.
Small stump removal: Small stump grinding machines are self-propelled and designed to fit through 36-inch-wide openings. During this process, we will grind the stump down 2-6 inches below the surface to ensure it cannot be seen from above.
Large stump removal: For large stump removal, we will grind the stump down 12 inches below the surface to destroy the root ball. This ensures that the stump is completely removed from your property.
Both small and large stump removal include grinding an additional foot of surrounding ground to reach the roots. After this, the ground stump will be turned into mulch to re-fill the hole. We also offer the option of replacing the ground stump with topsoil and seed for an additional charge.
Reasons for Stump Removal from your Rockville, Maryland Property
Create space: Old tree stumps can take up valuable space on your property and removing them can help give you the clearest yard possible for additional activities.
Remove hazards: Over time weeds and grasses will grow over your stump and make them hard to spot. This can lead to tripping hazards or even cause damage to your mower if you try to clear the weeds and grass from them.
The appearance of your yard: Old tree stumps can be a complete eyesore on your lawn, and for many, they are even considered worse than weeds and other unwanted plants. Professionally removing old tree stumps with Ed's Tree Service can improve the overall appearance of your yard and allow it to live up to its full potential.
Safely Remove Your Tree Stump with Ed's Tree Service
After a tree has fallen or been removed, it is important to efficiently remove the tree stump from your yard. Professionals, such as Ed's Tree Service, can remove unwanted stumps with minimal disruption to the surrounding area with ease. There are many people who have tried to remove the stump without professional help, which causes danger to themselves and their property. In order to get the job done safely, a professional needs to be hired. The experts at Ed's Tree Service have the experience, education, and equipment to remove your tree stump safely and quickly.
If you are in need of stump removal in Rockville Maryland, please contact us on our website or give us a call at 301-937-6269.