Are you in need of emergency tree removal and live in the Rockville, Montogomery County, Maryland area? Ed's Tree Service can help at 301-674-8375.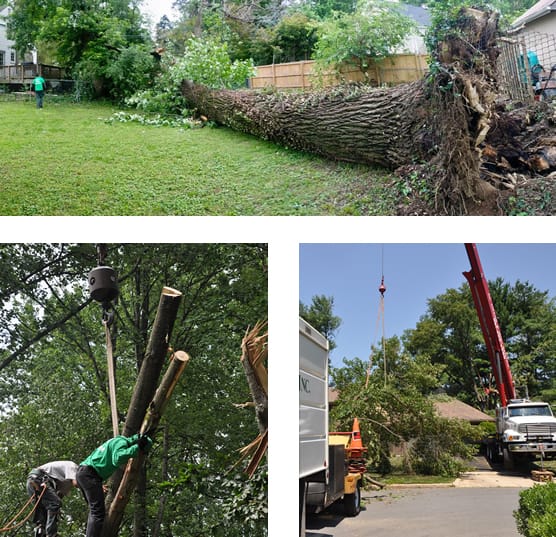 If you have storm damage from trees or branches on your property, you can call us, and we will respond as soon as possible.
Once you call Ed's Tree Service, a tree service estimator from our team will visit your property to provide a written estimate and to go over any and all details with you.
Should a tree or a branch fall on your home, fence, garage, or other structure, our reputation, and guidance as a reputable tree service will guide you through the insurance claims process. We work to maximize your policy coverage and minimize your stress. Our expert crane operations and crews will take great care to help protect and preserve your property during this removal process.
We understand that a tree falling on your house or yard is bad enough; no one should have to deal with additional unnecessary damage from tree removal!
Insurance Costs For Emergency Tree Removal, Rockville
Our expert tree removal estimates can help speed up your homeowner's or business property insurance payment. Our team can help you contact your insurance agent, explain the given situation, get approval, and, if possible, bill your insurance company directly to avoid those out-of-pocket expenses.
General insurance-related guidelines for tree damage*
Insurance policies typically cover all or part of the cost of removing trees or branches from your home or other structure/building.
Insurance policies do not cover trees and branches that fall on lawns, driveways, or bushes.
If your healthy tree or its branches fall on a neighbor's property during a storm, you are not responsible for the damage. The neighbor's homeowner's insurance will cover clean-up and repairs to their property.
If your dead tree or its branches fall on a neighbor's property, you will be held responsible for the damages due to negligence. Protect your financial well-being by removing dead trees and dead branches. Keep healthy trees pruned to avoid property damage or bodily injury.
*Your coverage may differ; review your specific policy coverage to confirm or contact your insurance provider if you have questions.
We're professionals on-site and off and are proud of our reputation of exceptional customer service for promptly returning phone calls, setting appointments, and providing high-quality tree care when you need it. Our customers regularly thank us for our honesty, professionalism, and commitment to their satisfaction. We're very grateful for our customers and what they say about us; read our reviews and see why you need to call us before deciding on a tree service company in Rockville.
We've had over 15,000 customers and are a top-rated professional tree removal company. At Ed's Tree Service, tree care expertise goes hand in hand with our down-to-earth attitude, commitment to personal service, and total satisfaction.
Ed's Tree Service not only offers emergency removals, but we also offer ethical arbor care and maintenance services.
Our Rockville tree maintenance services include:
Stump removal
Pruning trees
Ash Borer tree removal
Tree fertilization
Free estimates!
Let us know how we can help you with your tree care. If you are interested in an estimate, please call us or fill out our form. We take pride in our fast response time and superior customer service. We provide estimates when and where you need them.
If you are in need of emergency tree services in Rockville, do not hesitate to reach out.