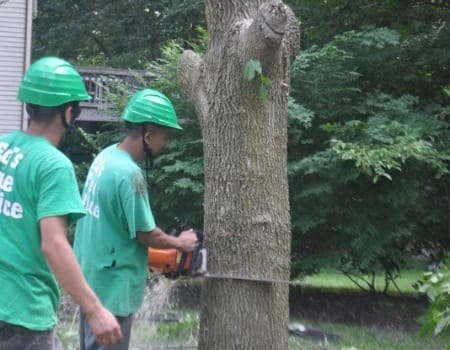 The process of removing a tree is vital to its surrounding areas, because dead or dying trees can pose a serious safety risk. Experts like Ed's Tree Service can take care of your Bethesda, MD tree removal, keeping you and your property safe from any potential hazards.
Tree Removal in Bethesda, MD: We take pride in our ability to accurately identify dead and dying trees for removal, helping protect your Bethesda property.
Reasons to Remove Trees in Your Area:
If it is a dead tree, or poses a threat, it must be removed immediately before falling
Trees sometimes grow too large for the area it was planted in
Trees getting in the way of a building or structure
Trees/roots growing into foundations or sidewalks, causing them to become unstable
Trees causing an inconvenience
"Where does our insurance company play into this?" – If a tree has caused damage on any structure or building of your property, we will call the insurance company, explain the damage and help you with things the insurance company may need to process your claim.
"How do we stop this from happening again?" – We encourage clients to allow us to investigate their properties for future threats. Because of our extensive experience, we can help spot stressed trees, as well as give suggestions such as tree thinning to help prevent summer storm damage.
Tree removal can seem overwhelming from worrying about your property to worrying about insurance. Let the experts at Ed's Tree Service alleviate your concerns.
The first step is to contact a professional right away. We take pride in our fast response times and work to provide estimates when and where you need them. It is important that all your questions are answered.
Do you need a licensed and insured Bethesda tree removal company? Contact us today.
---
Bethesda is located just northwest of the U.S. capital of Washington, D.C in southern Montgomery County, Maryland, . Bethesda, MD is an unincorporated community and is estimated to have a population of about 63,000 residents.