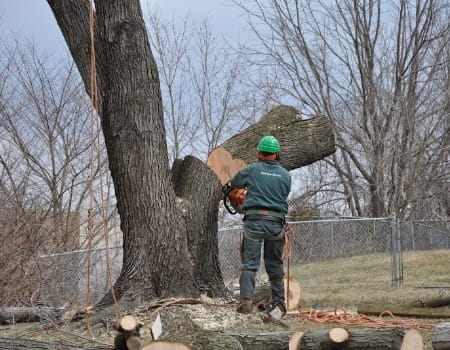 When you decide you're ready for tree removal you want to ensure the job is done safely and correctly. Tree removal can be a dangerous job without the proper equipment and training so it's important to find tree removal professionals you can trust.
Estimate and consultation– We start by talking through your goals for your yard and which trees you want to be removed and/or trimmed. We aim to achieve your lawn goals while also making sure your lawn is safe and your trees are healthy.
Evaluation– We can then evaluate your trees and provide an estimate of the work so you know what to expect before we get started. We can also let you know which trees are in need of a trim and which should be removed due to safety reasons such as an overgrown tree or a tree that is dead/dying.
Removal– Once we have our tree removal equipment in place we can get started with the tree removal. Our experts work to quickly remove your tree while taking the appropriate safety measures. We also work to clean up the area where the tree once was so you can start enjoying your new lawn immediately.
Our team is fully licensed and insured and with over 3 decades of experience, you can trust us to get the job done right. Our team takes the time to listen to what you want, evaluate your trees, and provide an estimate before we get started. We take the utmost care to remove your tree safely and without causing damage to any surrounding structures or other property.
To schedule your free estimate for tree removal service in Chevy Chase and learn more about why Ed's Tree Service is right for your tree removal job, call 301-937-6269 or click here.