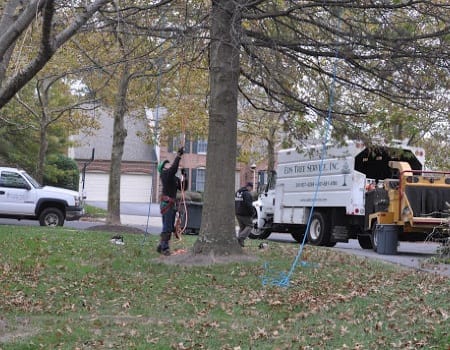 Tree trimming and pruning are essential in keeping your trees healthy and beautiful. Whether it's dead branches, your tree has gotten too big, or it needs a bit of a facelift, we can help you achieve your Laurel, MD tree trimming goals.
Remove dead or damaged branches– One of the major reasons people choose to trim or prune their trees is because of dead or damaged branches. They're not only unsightly but can harm your tree's health and could fall one someone or something below.
Prevent crowding of trees– Your trees may be growing into each other and are oversized. By trimming the crown, you can improve the health of that tree and others surrounding it as well as preventing the branches from rubbing together.
Increase light and air penetration- Trimming your trees can allow more light to come through and brighten up your yard, while also allowing air to flow more easily.
Reduce safety hazards- When your tree is appropriately trimmed, and dead limbs are removed, it will improve the safety of your tree, helping it withstand storms much better and keeping you and your surrounding structures safe.
When you think it's time to trim and prune your trees, turn to an expert tree trimming service to ensure the job is properly done. Ed's Tree Service has been in business for decades and has assisted more than 15,000 customers.
As a fully licensed and insured company, we can make sure that your trees are safely trimmed and look good afterward. We can walk you through each step, so you fully understand what will be done before we get started.
If you live in Laurel, MD, and need a free tree trimming consultation, reach out today online or by calling 301-937-6269.
---
Laurel, MD. was first incorporated as a town in 1870 and is located midway between Washington, D.C. and Baltimore.