Ed's Tree Service is licensed and insured for tree stump removal in Adelphi, Maryland and will make the process as quick and easy as possible.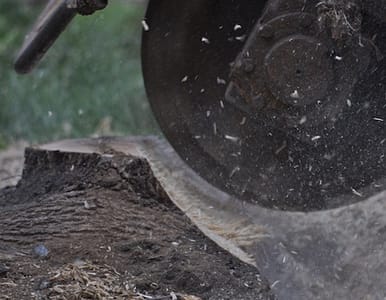 Click here to schedule an appointment >
Reasons why you should consider Stump Removal for your Adelphi Property
The appearance of your garden– Old tree stumps can be an eyesore on your lawn. For many, they are even considered worse than weeds and other unwanted plants, which will inevitably grow on tree stumps if they are not removed. Professionally removing old tree stumps with Ed's Tree Service can improve the overall appearance of your yard.
Create space– Old tree stumps can take up valuable space in your garden and removing them can help give you the widest and clearest yard possible, allowing extra space for activities or planting new things.
Remove hazards– Over time, when weeds or grasses grow over your stump, they become more difficult to spot in your yard and can easily become a tripping hazard. They can even cause damage to your mower if you try to clear the weeds and grass from them.
Stump Removal Options in Adelphi
Our services include large or small stump removal:
Small stump removal: Small stump grinding machine are self-propelled and designed to fit through 36-inch-wide openings. We will grind the stump down 2-6 inches below the surface.
Large stump removal: We will grind the stump down 12 inches below the surface to destroy the root ball using a stump grinding machine that will arrive at your property trailered by a pickup truck.
Both processes include grinding an additional foot of surrounding ground to reach the roots. Next, we will turn the ground stump into mulch to re-fill the hole. We also offer the option of replacing the ground stump with topsoil and seed for an additional charge.
Choosing a professional tree service like Ed's Tree Service for your Adelphi stump removal needs will give you peace of mind that the process will be taken care of professionally and safely.
---
Ed's Tree Service is licensed and insured to operate in Adelphi, Maryland. We have been operating in Adelphi since 1987 and have over 30 years of experience serving the Adelphi community.
Ed's Tree Service is well equipped to meet all your emergency tree removal needs.