Some might think that once the weather turns cold, that there's no need for tree maintenance since most people spend their days inside. The reality is winter is a great time for tree removal in Silver Spring, Maryland and can prevent them from wreaking havoc on your property.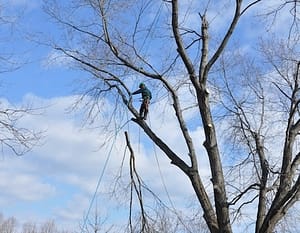 Any dying, damaged, or dead trees that remain on your property can be dangerous through the winter season. After one big snowstorm, your tree can become weighed down with snow and ice, leaving it susceptible to toppling over and destroying your property. Trimming trees before winter arrives can prevent falling branches and other unnecessary damage.
If you remove your trees in the winter, your property can recover in time for spring and will be ready for new growth. If you prune your tree in winter, you'll have little time stuck looking at a tree that has been pruned before it grows and spreads out in spring.
The winter is a good time for Silver Spring tree removal because trees are dormant, leaves fall off, and are in a period of rest. This makes it easier to see and determine if any branches or trees pose a danger of falling or are dead.
How to inspect your Silver Spring, MD tree to see if it needs to be removed
Start your inspection at the base of the trunk and work your way up to the top: Soil heave- the upwards swelling of soil- is the first thing to look for at the bottom of the trunk and beneath the canopy.
Look at the base of the trunk: Do you notice decay-producing fungi such as mushrooms, beginning to grow?
On the tree trunk: Do you see any cracks in the bark or notice the bark peeling back?
Further up the trunk: You might notice tree holes or semi-enclosed cavities in the trunk.
When you reach the scaffold branches: The primary limbs which form the beginning of the tree's canopy may have tree holes.
Looking at the top of the canopy: There may be dead or hanging branches in the upper crown (the leafy branches that make up the top part of the canopy).
Consider finding a licensed and insured tree removal company, like Ed's Tree Service, to inspect your tree and assess it for hazards. We will come to you and provide a free estimate and walk you through everything that needs to happen.
For more information about hiring a professional and trusted tree removal company for your Silver Spring, MD tree removal needs, contact us today or call 301-937-6269.
---
According to Livability.com the median income for families is more than $100,000, and many residents work in Washington, D.C. only 20 minutes away. Silver Spring has a downtown area that hosts a number of entertainment and ethnic festivals, and outdoor recreation options include several spacious parks. For academic choices, the city hosts campuses of Montgomery College and Howard University.