Stump removal can drastically improve the look of your lawn. An old stump can be a massive eyesore on your property and ruin your curb appeal. But, when it comes to removing a stump is it best to try and DIY or to call a professional tree care service to handle the job?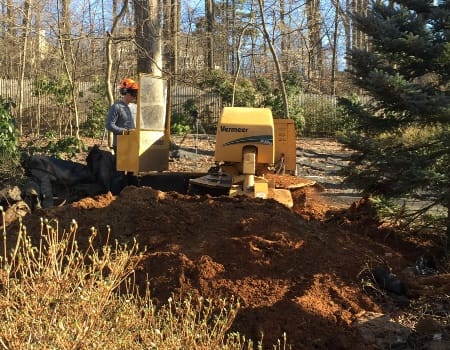 A stump grinder is typically required for proper removal. These can be bought or rented, but it can be a dangerous job and if done improperly it can end up looking worse and even leave the stump alive if the root system isn't properly destroyed. When you call Ed's Tree Service we'll assess the stump and determine what machinery will be required to get the job done right.
Large Stump Removal: For larger jobs, a large tree stump removal machine arrives at your property trailered by a pickup truck. Our driver will carefully back the truck and stump removal machine across your yard to reach a large stump, and then we will grind the stump down 12 inches below the surface to effectively destroy the root ball.
Small Stump Removal: For smaller jobs, a small stump machine will be used. These are self-propelled and do not need to be moved into place by a pickup truck. The machines are also designed to fit through 36 inch-wide openings and will grind smaller stumps down 2-6 inches below the surface.
Once the stump has been removed, our team can use the ground-up wood chips to fill in the hole like the stump was never there.
Our team is fully licensed and insured so you know the job will be done right. We offer free estimates of work so you know what to expect beforehand and can evaluate your needs. We'll answer any questions you have and discuss the stump removal cost with you before moving forward. Whether you're simply interested in the removal of a stump or want to know more about tree trimming/removal, we're here to help.
Read a review from a past customer:
"From the initial estimate with the Ed's Tree Service Representative to the finished product, I am a very satisfied customer. The crew from Ed's Tree Service was efficient and effective! The work was done in such a fashion that the sunlight gets to my lawn, the front area of my property is open and bright, and I the trees was effectively trimmed to minimize any contact with my roof or the home of my neighbor's home. Well worth the cost of the job. I Love Their Work!"
To schedule your free estimate for stump removal in Maryland, call 301-937-6269 or fill out our online form.