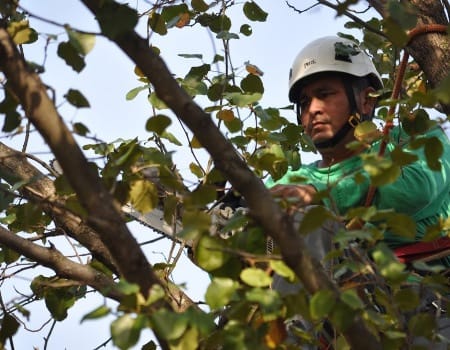 As summer comes to an end, it's time to start thinking about your seasonal tree care needs. Fall tree care is especially important as the summer has brought extended periods of extreme heat, as well as thunderstorms. Both can cause the trees on your property to be more susceptible to damage.
Protect your trees by hiring an expert to take care of your tree trimming and pruning in Potomac, MD. This will help prevent any further damage to the whole tree, leaving your tree with the ability to recover in time for spring.
Fall is an excellent time to trim your trees to prepare them for the winter storms, Since the leaves are falling and the branches are more exposed, it is easier to determine which branches potentially pose danger to your property than other seasons.
Tree trimming and pruning in Potomac, MD works to remove dangerous or crowded limbs to increase safety, light, and air penetration for your property.
When properly pruned, tree trimming can lessen the possibility of storm damage to yourself and your home.
We offer many services including:
Crown thinning: This will increase light and air penetration, reduces wind resistance, and prevents storm damage by removing certain branches in the crown
Crown elevating: Increase visibility and provides clearance for walkways, vehicles or new structures by removing the lower limbs of the tree
Crown cleaning: Remove crowded, weak, dying, or dead branches
Crown reduction: This service reshapes the crown to reduce the overall size of the tree
Crown clearing: By removing limbs that interfere with structures on your property such as gutters or roofs, we can increase safety for you and your property
With over 30 years of experience and more than 15,000 satisfied customers, Ed's Tree Service is proud of our reputation for exceptional customer service, for promptly returning phone calls, setting appointments, and providing high-quality tree care when you need it. We are a licensed and insured tree trimming company that will come to you to provide a free estimate and walk you through everything that needs to happen.
Contact us today for more information about tree trimming services or call 301-937-6269.
---
In 2015, Potomac was named the 3rd-most educated place in America by Forbes. In 2018, data from the American Community Survey revealed that Potomac was the sixth-wealthiest city in the United States.