Ed's Tree Service provides expert tree care and tree trimming services to the Bethesda, Maryland, area. We assist homeowners, commercial, and government properties with all of their arbor care needs.
With more than 30 years of experience and over 15,000 satisfied customers, we provide an easy, seamless experience.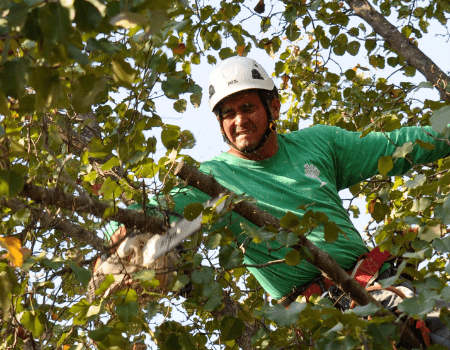 Our experts work to get the job done, believing wholeheartedly in providing exceptional service at a competitive price. We have skilled climbers for tree cutting and tree trimming work, as well as expert crane operators for the bigger jobs.
Ed's Tree Service believes it's not enough to just have the physical skills but also the knowledge and vision to keep one's trees healthy, safe, and beautiful. When you need tree removal services, tree trimming, and more at your home or business, we're here for you.
You can contact our team for immediate help if you have storm damage from trees or branches.
Our professional tree care estimators will guide you through the insurance claims process, maximizing your policy coverage and minimizing your stress. You can count on our expert crane operators and tree removal crews to take great care to protect and preserve your property, ensuring that you understand each step of the process.
Our team provides various services such as:
Tree removal
Tree fertilization
Tree stump removal
Emergency tree removal
Ash Borer tree removal
We work to provide quality service, aiming to safely and efficiently remove, prune, or clean your trees. We take great care in providing top-quality customer satisfaction.
Services Provided By Our Tree Trimming Company, Bethesda
As a tree service company that comes highly recommended, we offer services such as:
Removing dead branches
Keeping tree limbs from damaging roofs and gutters
Preventing tree limbs from crowding and rubbing branches
Reducing possible safety hazards
Increasing light and air penetration
When trees are pruned properly, it helps prevent damage to property or bodily injury and increases airflow, which will lessen the possibility of storm damage.
"I would like to express my thanks and appreciation for the outstanding service provided by your staff. The guys worked together very well as a team to successfully cut down and remove 4 large Pine trees that were leaning over a neighbor's shed and greenhouse.

The trees were located in an area that was difficult to access. I was very impressed with their ability to evaluate the situation and then carefully take the trees down in sections to avoid any contact with the neighbor's property.

They were equally careful hauling the branches from the site to the truck without harming any of the flower beds and then cleaned up the entire area after completing the project. They exhibited a courteous, professional attitude along with a commitment to customer satisfaction."