Expert tree removal is easy when you have professionals such as Ed's Tree Service here to help.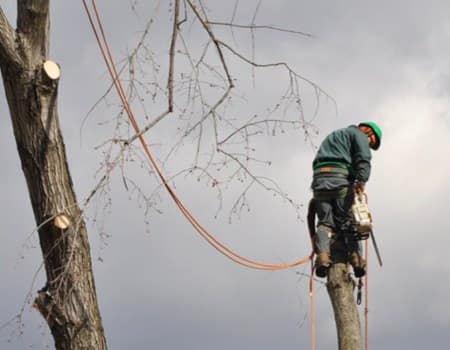 At Ed's Tree Service we are professionals on-site and off. We are proud of our reputation in the Maryland community and work to provide exceptional customer service and high-quality tree care whenever you may need it. We work diligently to return phone calls, set up appointments, and assist in tree-related care.
We are grateful for our customers as they regularly thank us for our honesty, professionalism, and commitment to their satisfaction with their tree care. As stated, we are humbled by the wonderful feedback from our customers, so you can see why you need to call Ed's Tree Service before deciding on a tree service company.
Maryland Tree Removal Services
Protecting the trees in your yard is a vital part of ethical arbor care. However, accurately identifying the trees in your yard for removal requires extensive education and expertise. That's why at Ed's Tree Service we take care in our responsibilities to our clients, the Maryland community, and the environment. We do our best to protect the trees that are healthy and provide tree removal options for the trees that may need removal and/or care. We take care in providing the best information we can, in clear and understandable terms.
When and if a tree needs to be taken down, we have a highly-skilled crew that uses specialized technical rigging equipment and/or cranes, to take care of the job as safely and efficiently as they can.
Ed's Tree Service uses some of the most experienced professional tree climbers in the business. Our tree removal process is designed to not only protect your structures and landscaping but people as well.
Professionalism starts with recognized qualifications and credentials. All Maryland tree service companies must be licensed and carry both liability and workman's compensation insurance.
Why You May Need Tree Removal in Maryland
There are several reasons as to why you may need to remove a tree:
Most Importantly, if the tree is dead or poses any safety risks. Dead trees need to be removed before they fall in order to avoid any harmful possibilities.

If trees or roots are growing into foundations, or roots are lifting up sidewalks or driveways.

If your trees are getting in the way of building a new structure.

If a tree grows too big for the area it was planted in

Trees become a nuisance
Emergency Tree Removal in Maryland
At Ed's Tree Service we also provide emergency tree removal. We can assist you in the case of storm damage immediately. Trees or branches may fall on your house, deck, cars, fences, and/or sheds during wind, ice, or snow storms. Our crews are trained to remove trees from these structures and houses, with variously sized equipment and cranes.
If you nee

d tree removal

for your property, you can contact Ed's Tree Service at 301-937-6269 or email us with any additional questions you might have.