Look no further than Ed's Tree Service if you're looking for professional tree trimmers to help safely beautify your trees and property. Ed's Tree Service has decades of arbor care experience in tree removal, stump removal, and tree trimming, and has been helping Montgomery County residents for over 30 years.
During Montgomery County winters, most trees are dormant. Contrary to popular belief, this is an excellent time to trim your trees; dead, sick, or dying trees can be hazardous in winter, especially when there are storms that bring wind, ice, and snow. Our experts will assess your trees and determine which branches need to be removed to improve your tree's health and overall look.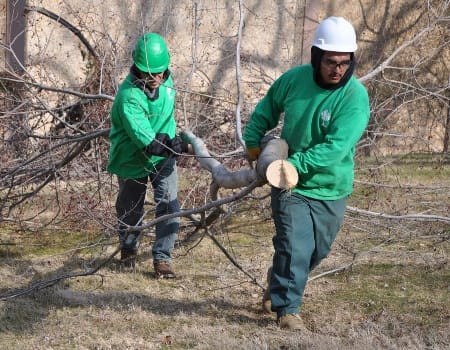 Winter storms and slippery conditions make "DIY tree trimming" even trickier; that's why you need a professional tree service. It's important to be aware of the following three when considering hiring professional tree trimmers.
Inspect the health of your trees – It can be easy not to pay attention to your trees and let their health decline. In general, several factors can affect the health of your tree, including overgrowth and branches rubbing together. By asking a professional to trim or prune your tree, you can end up extending its life.
Don't try to do it yourself – Tree trimming can be incredibly dangerous if done without the proper experience or equipment. This is especially true when larger trees with difficult-to-spot dead branches are involved.
Contact an experienced tree trimming service – The team at Ed's Tree Service is fully licensed and insured, so you can trust them to complete the task at hand safely. Our decades of work have given our employees the knowledge they need to make your yard look good as new.
There are many benefits to having your trees safely trimmed by professionals. Some of them include:
Improved lawn appearance – Dead and unruly branches can make your trees look neglected and take away from the overall beauty of your lawn. Sometimes, even just getting a few branches removed can result in a major difference in the look of your trees.
Improved health of your trees – Dead branches and branch overcrowding can greatly affect the health of your tree. By trimming and pruning your trees, Ed's Tree Service can boost their health without needing to remove the tree entirely.
Improved tree and yard safety – In addition to considering the appearance of your yard and the health of your tree, it's important to remember that dead trees and branches are a safety hazard. Dead branches can fall at any time and damage what's below them. By removing dead branches, you can end up making your trees and yard safer and more beautiful.
Where to Find a Montgomery County Tree Trimming Service You Can Trust This Winter
When you think your trees need to be trimmed, you want to find a team of experts that you can trust. Ed's Tree Service is equipped with the skills and knowledge to handle projects of all sizes. We offer free estimates of work and will happily explain our process or fax over our insurance information before getting started.
Below is a review from just one of our many loyal customers:
Tony and the crew did a great job! I can't believe how open and light filled the backyard is now that all the trees are trimmed. One of my favorite things is how they trimmed the tall evergreens on my property line. The bottom branches were so ugly before! – P. Powley
To schedule a free estimate for your winter Montgomery County tree trimming, call 301-937-6269 or fill out our online form.