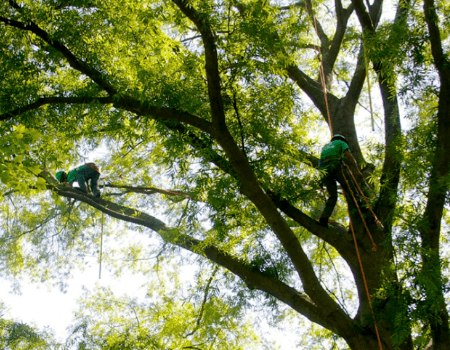 Are you thinking of removing trees from your property, but you're not sure where to start? Let the experts at Ed's Tree Service advise you on your tree removal in Silver Spring, MD.
You have a tree that is no longer wanted– Maybe you planted a tree years ago that grew more than expected or want more sunlight on your property, whatever the reason, the tree is no longer of use to you and your property. We can help you safely remove it.
Your tree is damaging your home or property– Some trees have large branches that cause damage when they fall or produce substances that can leak onto a roof or vehicle below making it more of a nuisance than anything.
You have a tree that is posing a threat to your home– Sometimes trees suffer damage and have loose hanging limbs or look unsteady in general. It's best to handle the danger before it causes any damage to your home or surrounding structures.
Your tree is dying– Just like any other living thing, trees die. When you have a dead or dying tree on your property, it can be unsightly and unsafe. We can advise you on how to save your tree if you wish, or remove it altogether.
Removing a tree by yourself without the proper tools and experience can be dangerous and reckless. You'll want to find someone who:
Is experienced with tree removal– In our 30 years of business, we've served over 15,000 customers and are a top-rated tree removal and care company.
Is licensed and insured– We are fully licensed and insured and will happily provide a certificate of insurance if requested.
Can provide you with an estimate of your needs- We provide our customers an estimate of the work in writing, including a time frame for the job so you know what to expect.
---
According to the 2010 census, Silver Spring, MD was home to 71,452 residents, with the estimated number of residents per home from 2013-2017 at 2.53.