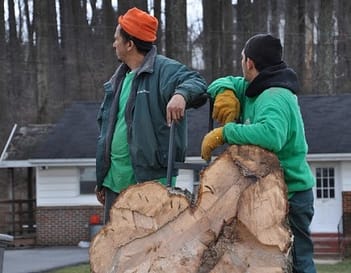 Do you have a stump in your yard that needs to be removed? Maybe it was there when you purchased your property or was just never taken out when you cut down a tree, either way, it's become an eyesore and needs to be taken care of.
Improve your curb appeal– Stumps can be unattractive and completely ruin your curb appeal. Removing your stump will instantly improve the look of your property.
Get it out of your way– Stumps can get in the way. Whether it's when you're mowing the lawn or you want to put in a fence where the stump happens to be, it's in the way and inconvenient.
Replenish your soil– We typically leave the mulch behind from your stump, which can be used to replenish your soil and is environmentally friendly as well.
When removing a stump, stump removal machines are the key to successfully grinding your stumps into mulch and ensuring that they are removed properly. Our team has over 30 years of experience and is fully licensed and insured. We have all the necessary equipment to make sure the job gets done right the first time.
Stumps come in all shapes and sizes. Large stumps may require a different removal process than smaller stumps.
With large stumps, the typical process involves a stump grinder machine being brought to the location by a pickup truck and then grinding the stump down 12 inches below the surface to make sure the root ball is properly destroyed.
Smaller stump removals are typically self-propelled machines, meaning they don't need to be put into place by a truck. These stumps will be ground down 2-6 inches below the surface.
---
Gaithersburg is located in Montgomery County, began in 1765 as a small agricultural settlement known as Log Town.