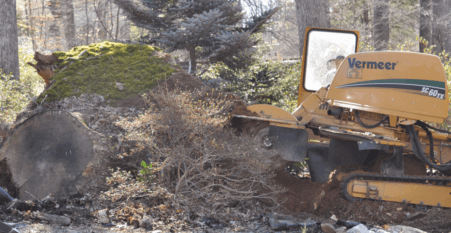 Reasons to Remove a Tree Stump From Your Bethesda, Maryland Property
The appearance of your garden– Old tree stumps can be an eyesore on your lawn. For many, they are even considered worse than weeds and other unwanted plants, which will inevitably grow on tree stumps if they are not removed. Professionally removing old tree stumps with Ed's Tree Service can improve the overall appearance of your yard.
Create space– Old tree stumps can take up valuable space in your garden and removing them can help give you the widest and clearest yard possible, allowing extra space for activities or planting new things.
Remove hazards– Over time, when weeds or grasses grow over your stump, they become more difficult to spot in your yard and can easily become a tripping hazard. They can even cause damage to your mower if you try to clear the weeds and grass from them.
Why Choose a Licensed & Insured Company for your Bethesda Stump Removal?
Tree service professionals, like those at Ed's Tree Service, are able to use their extensive expertise and knowledge to make your tree removal process as fast and easy as possible, all while maximizing the benefits in appearance for your lawn.
Not only can you expect an increase in quality with professional stump removal, but often, it is also more cost and time effective than trying to remove the stump yourself, particularly if you are in need of other tree services.
The equipment needed for stump removal can be very costly and difficult to rent, and without professional experience using this equipment, it can even become dangerous. Read more about the benefits of hiring a professional for stump removal in this Near Say article.
Our Bethesda Stump Removal Process
Stump grinding is the method used for our professional stump removal. You can expect our expert stump removal process to include not only grinding the stump itself but grinding an additional foot of surrounding ground in order to reach underlying roots. If needed, we will grind even larger areas to remove unsightly or annoying surface roots as well. Different stump grinding machines are used for smaller or larger stump removals.
For Small Stump Removal- Smaller stump grinding machines are self-propelled and designed to fit through 36-inch-wide openings. These stump machines will grind smaller stumps down 2-6 inches below the surface.
For Large Stump Removal- Larger stump grinding machines are not self-propelled. They will arrive at your property tailored by a pickup truck. Our driver will carefully back the truck, and stump removal machine, across your yard to reach the large stump. These stump machines will grind the stump down 12 inches below the surface to effectively destroy the root ball.
Post- Stump Removal Options
Mulch- After we have finished grinding the stump, the resulting mulch is used to back-fill the hole. Over time, the stump mulch will settle back into the ground. This nourishes the soil.
Topsoil and Seed- If you prefer, we will remove the ground stump mulch and replace it with topsoil and seed, for an additional charge.
---
According to the Official Site of State of Maryland Tourism:
Bethesda is a thriving urban center near DC and home to many fabulous restaurants, retailers and arts venues.
Bethesda, one of the most renowned communities in the Washington, D.C., metropolitan area, is known as the go-to place for ethnic restaurants, great shopping, trendy hot spots. Bethesda's Art and Entertainment District is brimming with inspiring artists and art venues, like the Strathmore, Bethesda Blues and Jazz Club; art events, unique galleries and public art fill the streets.