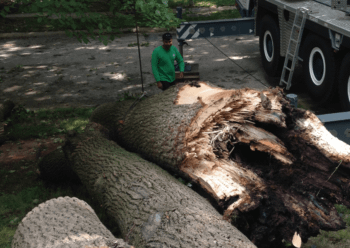 Find a licensed and experienced College Park tree removal company to get rid of damaged, dead, or irritating trees.
Ed's Tree Service is a licensed and insured College Park tree removal company with over 30 years of experience and more than 15,000 satisfied customers.
There are several reasons you may need to remove a tree from your garden, including:
Danger: If a tree is dead or poses a hazard then it needs to be removed before it falls. Trees can fall unexpectedly and cause damage to your house, garage, or other nearby structures. Dead trees are more susceptible to falling during bad weather as well, so don't delay getting this taken care of during a summer of intense storms!
Uplifting sidewalks or driveways: Trees or their roots can unexpectedly grow into foundations, causing an upheaval to sidewalks or driveways.
Outgrowing their space: Sometimes trees grow larger or faster than anticipated. Trees can get in the way of plans to build a new structure on your property or prevent sunlight from reaching parts of your property. When trees become a nuisance, they can be removed by a College Park tree removal company.
How to Find a College Park Tree Removal Company
When searching for a tree removal company, choose a company you can trust like Ed's Tree Service. We understand that removing a tree can be stressful and we will walk you through the process step-by-step. In many cases, if a healthy tree or branch falls on a structure on your property or your neighbor's property, your insurance company will pay all or part of the costs of tree removal. Ed's Tree Service will help you contact your insurance company to get approval for the removal costs. When you find yourself in need of tree removal choose Ed's Tree Service, a company that will make the process simple and easy.
For more information about College Park tree removal company, contact us today or call 301-937-6269.
---
College Park, Maryland
According to the City of College Park's website:
Situated just minutes from the nation's capital, the City of College Park is home to the University of Maryland and a wide variety of shops, restaurants, attractions and recreational opportunities. The City is comprised of over 30,000 residents that reside in diverse settings from quaint neighborhoods to luxury student housing complexes. With abundant transit options, beautiful parks and historic homes, College Park is certainly "A Smart Place to Live".