Looking for a trustworthy tree cutting service in the Rockville, MD area? Ed's Tree Service is here to help! Tree trimming and pruning are essential for the health and beauty of your trees and for your personal safety.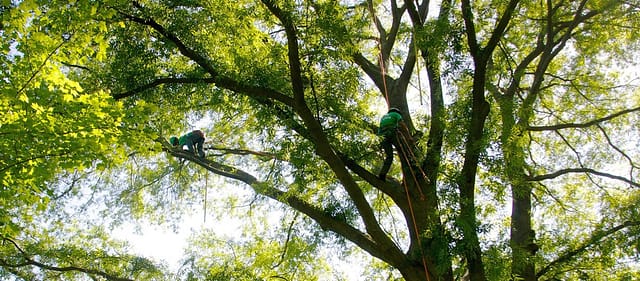 With over 15,000 customers to date, our wonderful clients have written glowing reviews. We are very grateful for our customers and what they say about us. We encourage you to read our reviews so you can see why you need to call us before deciding on a tree cutting service in Rockville!
At Ed's Tree Service, tree care expertise goes hand in hand with our down-to-earth attitude, commitment to personal service, and total satisfaction.
Check out some of our reviews:
"When Ed's crew does the job, it always goes well. They arrived on time and were very competent and professional in the way that they did the work. They are easy to talk to, and they take care to do everything correctly and clean up after the job is done."

"We used Ed's Tree Service after a major storm. Alice came out promptly to give an estimate and was very helpful in dealing with my insurance company. Kathy and Laura in the office were a pleasure to deal with as well, I'll use them again."

"The guys who came to our house were all very courteous and did an excellent job trimming the trees. Everything looks great. I wish I had contacted you much sooner so that we could enjoy the openness of the yards as much as the new owners will."
Looking For A Tree Cutting Service In Rockville? Call Us For A FREE Cost Estimate:
If you need tree trimming and tree pruning in Rockville, contact Ed's Tree Service for a free estimate!
We offer free cost estimates for tree removal, stump removal, and tree trimming. Whether you have a tree emergency or just need everyday professional tree services, we are here to help.
Tree trimming and or tree pruning are essential to keeping your yard safe and healthy. Tree trimming and pruning can help:
Prevent crowding and rubbing tree branches
Reduce safety hazards
Increase light and air penetration
Remove dead tree branches
Keep limbs from damaging roofs and gutters of your home/property
When trees are pruned properly, it helps prevent damage to property or bodily injury, increasing air airflow that can lessen the possibility of storm damage.
Here are a few types of tree trimming or pruning services our professionals offer:
Crown thinning
Crown raising
Crown clearing
Crown cleaning
Crown reduction
Wound assessment
Co-owner Alice Fernandes holds our license (#557), and if needed, we can have the insurance company mail or fax a certificate of insurance verifying our liability and workman's comp coverage.
Our tree experts know that professionalism starts with recognized qualifications and credentials. All Maryland tree service companies, including Ed's Tree Service, must be licensed and carry both liability and workman's compensation insurance.