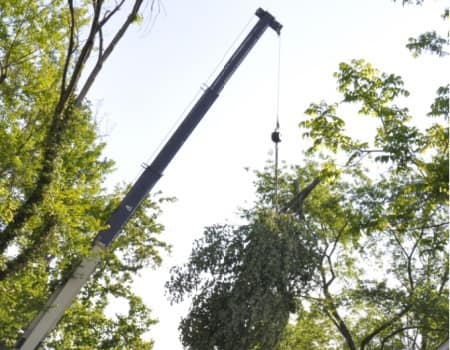 There are plenty of home improvement projects you can do yourself, but tree removal shouldn't be one of them. Tree removal can be a dangerous job that can damage your property, your home, and even cause injury if done improperly. If you have a tree that needs removal, call the experts at Ed's Tree Service and we'll get the job done right so you don't have to.
We've removed trees for all kinds of reasons including:
The tree is dead– Perhaps the most obvious removal of a tree, but when a tree is dead or dying it should be removed before it has the chance to cause any damage to your home or loved ones. Dead trees can fall at any time, rain or shine, and when they fall they can damage anything in their path.
The tree is causing damage– Do you have a tree with roots that have grown into your sidewalks, driveway, or foundation? Perhaps the tree is rubbing against your house. Whatever the damage, you want the tree gone plain and simple. Our experts can remove a tree that has, or is close to, causing damage to your property.
The tree is too large– Sometimes a tree grows too large for the area it was originally planted in and while it may be perfectly healthy, it's best it be removed.
The tree is no longer wanted– You may have a perfectly healthy tree that you simply no longer want. Sometimes you want the tree removed to add some light to your yard or to build a structure, either way we can help.
We've helped thousands of customers with tree removal, tree trimming and pruning, and stump removal. Our team is fully licensed and insured and aim for your complete satisfaction. We've worked through emergency situations where a tree has fallen on a house and on simple smaller scale projects where a tree needs a simple trim. Whether your job is big or small, we're ready to help.
To schedule your free estimate for Maryland Tree Removal with Ed's Tree Service call 301-937-6269 or click here.
---
Maryland is bordered by Virginia, West Virginia, and Washington DC. The State has 23 counties and over 4,000 miles of shoreline.