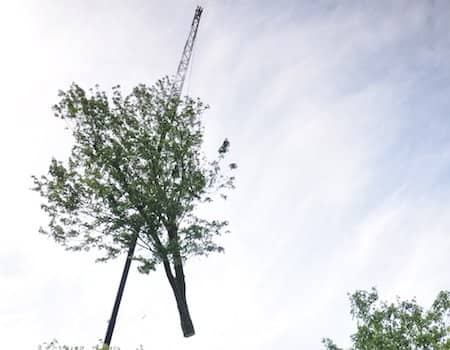 Looking for professional tree removal in Bethesda? We've got you covered. The experts at Ed's Tree Service are highly trained and can help you with any tree removal job no matter how small or large.
Whether you are in desperate need of tree removal or you're just looking for an expert opinion, we can help. Common reasons we help with tree removal are:
The tree has fallen– Trees can fall during a storm or during clear skies. If you've had a tree fall on your property or on your home, we know how to help get you back to normal. We'll help you reach out to the insurance company if need be to file a claim and clean up the mess your tree has caused.
The tree is dead– Dead trees are more likely to fall and cause damage to your home or surrounding structures. If you have a dead tree it's best to have it removed before the damage happens.
You no longer want the tree– While we appreciate the need to keep healthy trees alive, sometimes you have a tree that simply needs to be removed. If you're looking to build a new structure or redo your landscape we can help remove the tree to achieve your yard goals.
We provide tree removal, tree trimming, and stump removal services. Our team is fully licensed and insured as well so you know the job will get done safely and correctly. We offer free estimates of work and can evaluate your trees to let you know which ones should be removed, which ones need a slight trim, and which are fine as is.
To schedule your free estimate with Ed's Tree Service for Tree Removal in Bethesda call 301-937-6269 or click here.
---
Bethesda, MD is located near the United States capital of Washington, DC. With a population of just over 60,000 people in the area, Bethesda is the 12th most populated city in Maryland.