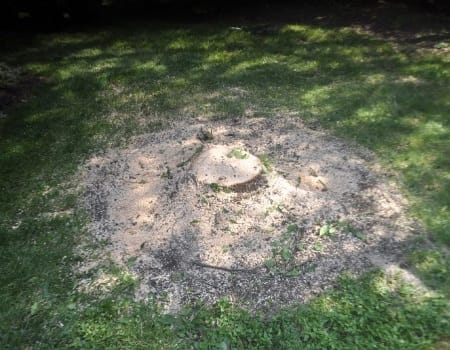 Curb appeal is one of the most important aspects of your home, but a pesky stump can ruin the whole picture and stick out like a sore thumb. You may want to have an old stump removed, but you're not sure how or where to start. If you want to give your lawn a refresh and boost your curb appeal, call the experts at Ed's Tree Service.
There are plenty of reasons to consider stump removal, including:
The stump is an eyesore– Stumps can be ugly and completely throw off the look of your lawn. By getting the stump removed, you'll no longer have to look at it, and it'll look like it was never there in no time.
It's in the way– Whether they're in the way of you mowing the lawn or you're thinking of building a new structure where the stump is located, the stump needs to be removed.
There are two ways in which stumps should be removed. The first is large stump removal, which involves a stump removal machine that is trailered to your property by a pickup truck. For large stumps, we will grind the stump 12 inches below the surface to ensure that the root ball is destroyed.
The second option for stump removal applies to smaller stumps. Smaller stumps still require a stump removal machine, but these machines are self-propelled and do not require a pickup truck to be moved into place. These stumps are broken down 2-6 inches below the surface to destroy the root ball.
Contact the Kensington Stump Removal Experts For Professional Stump Removal
Stump removal may seem like an easy task but is best left to the professionals. Ed's Tree Service is fully licensed and insured and able to get the job done safely and correctly. We also offer free estimates of work, so you know what to expect before we get started.
---
Kensington, MD is located in Montgomery County, MD. Kensington originally started as a farming community where residents of Washington, D.C. would visit as an escape from the humid capital in the summertime.