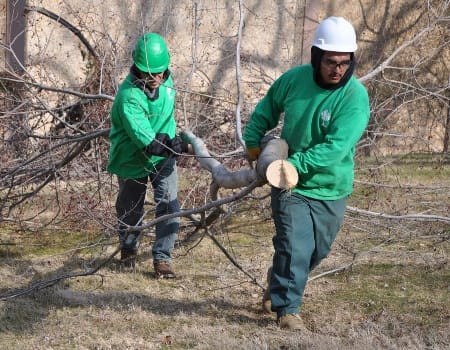 Tree trimming and pruning are great for the health and appearance of your trees, but it can also save you money in the long run. When your trees get overgrown or have dead branches, they can become a threat to your home and loved ones. Call the tree trimming experts before an even larger issue arises.
Trees can be a great source of curb appeal and shade in your yard, but if they aren't properly taken care of, they can quickly become a hindrance. If you want to preserve the beauty of your trees and avoid removing them altogether, tree trimming is a great option.
Tree trimming can help:
Remove dead or dying branches– Dead or dying branches are a threat to your home. They can fall at any time threatening damage to anything below, and while your tree may look fine from the ground, it could have dangerous branches you may not be aware of.
Prevent damage to your home– Trees can get overgrown and rub against your home causing damage and costing you money.
Prevent damage to the tree– When your trees get overgrown, the branches can begin to rub against one another and cause damage to your trees and impairing their health.
Increase airflow and light– By trimming and pruning your trees, light and airflow are increased on your property. This allows you to enjoy the benefits of your tree's shade without it being overpowering.
Tree trimming and pruning is a dangerous job if done improperly. It's best to find a licensed and insured team to make sure the job gets done right and doesn't end up costing you more down the line.
The experts at Ed's Tree Service are fully licensed and insured, and with over 30 years of experience, we're prepared for the job. We offer free estimates, so you know what to expect beforehand and will happily walk you through our process to ensure your satisfaction.
To schedule your free estimate with Ed's Tree Service for your tree trimming in Bethesda, call 201-937-6269 or click here.
---
Bethesda, MD is located in southern Montgomery County, MD and is home to roughly 65,000 people. Its population started to see large growth in the 1900's following the suburbanization of the area.