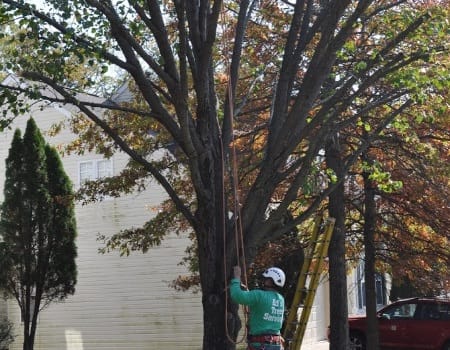 Is your curb appeal in need of a bit of TLC but you aren't sure what to do or where to start? You may be in need of professional tree trimming. Tree trimming can improve the look of your lawn as well as the health and safety of your tree.
Improved curb appeal– Even a quick trim can make a major difference in the look of your trees. Dead and unkempt branches can make your trees look neglected and take away from the beauty of your lawn.
Safer trees– Speaking of dead branches, not only are they an eyesore, they can be incredibly unsafe. Dead branches can fall at any time, rain or shine, and damage anything below. By removing dead branches you can end up making your tree safer and more beautiful.
Improved health of your trees– Dead branches and overcrowding can affect the health of your tree. By trimming your trees we can boost their health without needing to remove the tree entirely.
When you decide it's time for tree trimming you want to find a team of experts that you can trust. Our team is fully licensed and insured and has handled projects of all sizes. We offer free estimates of work and will happily explain our process before getting started. Read a recent review from a satisfied customer:
"From the initial estimate with the Ed's Tree Service Representative to the finished product, I am a very satisfied customer. The crew from Ed's Tree Service were efficient and effective! The work was done in such a fashion that the sunlight gets to my lawn, the front area of my property is open and bright, and I the trees were effectively trimmed to minimize any contact with my roof or the home of my neighbor's home. Well worth the cost of the job. I Love Their Work!"
To schedule a consultation with Ed's Tree Service and learn if you can benefit from a professional tree trimming service call 301-937-6269 or click here.