Potomac tree trimming can be useful for some trees during the summer.
While it's usually best to prune trees between fall and spring, here are some exceptions which warrant Potomac tree trimming in the summertime.
The Best Trees for Potomac Tree Trimming During Summer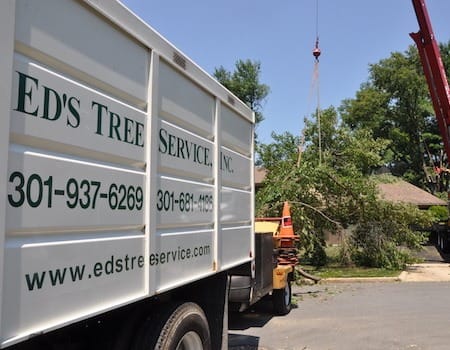 When it comes to these types of trees, trimming during the summer is actually better:
Trees with deadwood: It is always a good idea to trim trees with dead or dying limbs as these can pose a safety hazard to you or your property
Fruit trees: You can reduce the amount of fruit that these trees produce by pruning during the summer
When it comes to the rest of your trees there are still some good reasons to consider trimming them during the summer rather than between the fall and spring if they are overgrown.
An overgrown tree can cause problems like:
Growing into the space of another structure such as your house, deck and shed
Obstructing access to your sidewalks, driveway and other areas
Decreasing sunlight and air penetration to your property
Prevent other trees or shrubs from growing
If you're in need of Potomac tree trimming services this summer, choose a licensed and insured professional tree service like Ed's Tree Service. We are committed to customer satisfaction and will always treat your property with respect. Our expert arborists can trim your trees to attempt to reduce their growth next season.
For more information about Potomac tree trimming, contact us today or call 301-937-6269.
---
In 2015, Potomac was named the 3rd-most educated place in America according to Forbes. Bloomberg Businessweek labeled Potomac as the twenty-ninth-richest zip code in the United States in 2011, stating that it had the largest population of any U.S. town with a median income of more than $240,000. In 2018, data from the American Community Survey revealed that Potomac was the sixth-wealthiest city in the United States. Many Potomac residents work in nearby Washington, D.C.