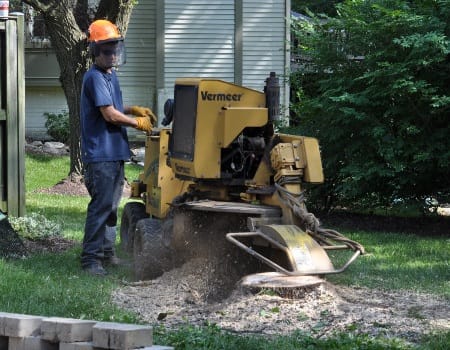 Your yard is one of the first things you and yours see when they see your home. An old stump can completely ruin the look of your yard and isn't always easy to remove yourself. Whether you're trying to sell your home or you just want to spruce up your yard, stump removal can help you make a good first impression and improve the curb appeal of your home.
Stump removal may seem like an easy process to those who are unfamiliar with it, but without the right equipment, it can be dangerous and difficult to do. When you call the experts at Ed's Tree Service, we'll assess the situation and get the job done right.
The two types of stump removal are:
Large stump removal: When you have a large stump a stump removal machine is required to get the job done right. We bring a machine to your property on a trailer and carefully place the machine where the stump is. We then grind the stump down 12 inches below the surface to ensure the stump is completely destroyed.
Small stump removal: Smaller stumps also require a stump removal machine, but for smaller stumps, the machine is self-propelled and does not require a pickup truck to deliver them. For smaller stumps, we grind the stump 2-6 inches below the surface to ensure it's destroyed.
Call an Expert Stump Removal Service for your Rockville Stump Removal
When you need a stump removed you want to make sure the job is done right and leaves your yard looking better than before. The experts at Ed's Tree Service are fully licensed and insured, and with decades of experience, you'll know the job is done correctly. We offer free estimates of work and can walk you through our process, so you know exactly what to expect.
To schedule your free estimate for Rockville stump removal, call 301-937-6269 or click here.
---
Rockville is located in Montgomery County, Maryland and is one of the largest communities in the state with nearly 62,000 residents according to the 2020 census.