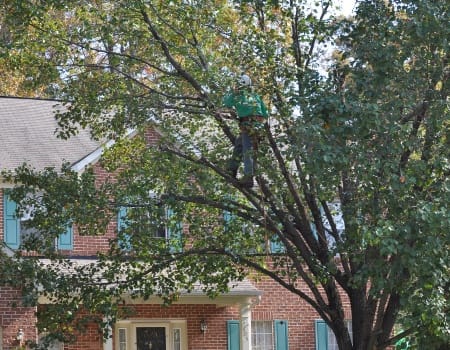 There are several DIY home improvement projects you feel comfortable doing yourself, but when it comes to tree services, it's best to call in the professionals. Whether its a tree removal, tree trimming, or stump removal, the tree experts at Ed's Tree Service can help get the job done right with the proper safety precautions in place, bringing you one step closer to your home improvement goals.
Our team is based out of Beltsville, MD, but we're proud to serve a large part of the state including areas like Chevy Chase, Rockville, Laurel, and Bethesda to name a few. Our team of experts is highly trained in:
Tree Removal– Our team knows how to remove even the largest of trees without causing damage to your property. We do everything we can to safely remove your trees and help you achieve the lawn of your dreams. We're also highly experienced in emergency tree removal. Heavy storms and rain can cause trees to suddenly fall on your home or other structures. Our team can help relieve the stress of a tree damaging your home and safely remove the tree without causing further damage. We'll also assist with any relevant insurance claims and walk you through the next steps in getting back to normal.
Stump Removal– Unsightly stumps may seem easy to remove, but if you've ever tried it yourself, you know how pesky they can truly be. Stumps can exist deep below the surface of the ground. Our team is trained to use stump removal machines that remove the stump safely and destroy the rootball.
Tree Trimming and Pruning– You may not be able to tell from the ground but your tree may have dead or dying branches that can be a threat to your property. Tree trimming can be essential to your tree's health and the safety of your property. Our team can evaluate your tree and determine which branches need to go to improve the health of your tree and prevent possible damage to your home.
Our team is fully licensed and insured so you can rest assured the job will be done correctly. We aim to improve the overall safety of your yard while also giving it a boost in curb appeal. We also offer free estimates of work so you know what to expect before we get started. Give us a call and find out why so many have trusted our expertise over the past few decades.
---
Maryland is well known for its abundance of waterways and coastlines. The state is home to just over 6 million people and its capital of Annapolis is located northeast of Washington, DC.