As a women-owned family business, Ed's Tree Service works to provide outstanding care to all of its clients. This includes tree care to homeowners as well as commercial and government properties in the DC metro area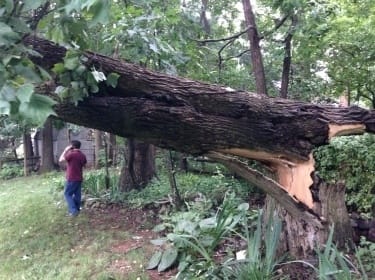 In 1987, Alice and Ed founded Ed's Tree Service. When it was time for Ed to retire, Ed and Alice's son, Kevin, joined Alice in leading the firm.
Ed's Tree Service is professional both on-site and off-site. Our company has a reputation we are very proud of. Our exceptional customer service is highlighted by our prompt return of phone calls, setting up of appointments, and providing the highest quality of tree care when one needs it.
Our kind customers regularly thank us for our honesty, professionalism, and commitment to their satisfaction and tree care needs.
We offer a variety of services ranging from tree pruning, tree trimming, tree removal, and or stump removal.
Tree Care Services Offered in Montogomery County
Ed's Tree Service offers several different arbor care services. We offer:
Emergency Tree Removals: If you have storm damage from trees or branches, you can call at any time and we'll get back to you as soon as possible – absolutely within hours.
Tree Removal: Protecting trees is an important part of ethical arbor care, and accurately identifying trees for removal requires extensive education and expertise.
Tree Pruning & Trimming: Tree trimming and pruning is essential for the health and beauty of your trees and for your personal safety.
Stump Removals: When a tree falls or is removed, the remaining stump can be unattractive. Ed's Tree Service removes stumps with minimum disruption to the surrounding yard.
Tree Fertilization: The care and feeding of trees is a new subject to many of our customers, and as tree experts we want you to understand all its benefits.
Ash Tree Removal: You should have your ash tree professionally removed if you're seeing tree symptoms, to stop the spread and ensure you abide by the quarantine and removal regulations
We have an excellent crew here at Ed's Tree Service. You will find that our entire crew is experienced and educated in all forms of tree removal and stump removal. Each crew speaks native English and Spanish and is led by one of our long-term crew leaders for a stress-free experience.
Our lead arborist Alice is a tree expert with more than 25 years of experience. On any given day, she gets the crews out in the morning, oversees administrative duties, and then goes out on the road to provide clients with estimates and clear explanations of our services.
Kevin is our second in command. He may be young but has over 10 years of experience with the company and is a licensed tree expert. He started as a groundsman learning the ropes and has climbed his way up acquiring his father's (Ed!) position as co-owner.
Professional Tree Care Services in Montogomery County
Our clients have left us glowing reviews to talk about their experience with Ed's Tree Service. We are once again very grateful for our customers and the time they take to share their experiences. Individuals have said:
"When Ed's crew does the job, it always goes well. They arrived on time and were very competent and professional in the way that they did the work. They are easy to talk to, and they take care to do everything correctly and to clean up after the job is done"

"I've been a customer of Ed's Tree Service for the last 20 years. They offer professional as well as personalized services. They have great communication skills, highly trained employees, and very knowledgeable consultants."
If you are need of expert tree care services in Montogomery County, MD, highly recommended by our customers, you can contact us on our website or give us a call at 301-937-6269