We have been providing outstanding tree care to residential and commercial properties in the DC metro area since 1987.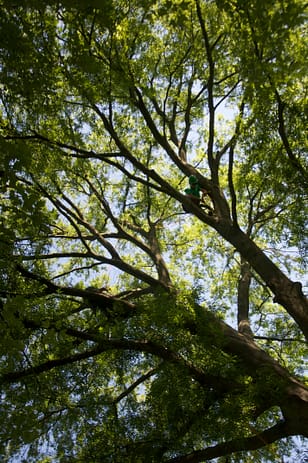 Ed's Tree Service provides a multitude of services to take care of all your arbor needs. We provide a variety of tree care services for your home or owned properties! At Ed's Tree Service we value customer service and work to provide the top care for all of our neighbors in Rockville, Maryland, and the DC Metro Area.
Ed's Tree Service provides services such as:
Emergency Tree Removal
Tree Removal
Tree Trimming
Tree Pruning
Tree Stump Removal
Tree Fertilization
Ash Tree Removal
Tree care is an important part of yard and property care, so it's important you find a tree service you can trust.
At Ed's Tree Service we are professionals on-site and off-site. We are very proud of our reputation for exceptional customer service as we continue to promptly return phone calls, set up tree care appointments, and provide the highest quality of care for all of our customers in need.
We have customers regularly thank us for our professionalism, honesty, and commitment to their tree service satisfaction. We are very grateful to our clients and what they say about us, so you can see why you need to call us before deciding on a tree company!
To date, we have had over 15,000 customers, and are a top-rated tree removal company. At Ed's Tree Service, tree care expertise goes hand in hand with our down-to-earth attitude, commitment to personal service, and total satisfaction.
Arbor care is vital, that's why protecting trees is an important part of ethical tree care. Accurately assessing trees for removals requires extensive education and knowledge by expert professionals. We take this responsibility to our clients, community, and the environment very seriously. We work to do our best to protect healthy trees and provide tree removal options with information that is clear and understandable for all.
There may be a variety of reasons as to why trees need to be removed. This can be due to dead trees, trees or roots growing into foundations, trees or roots uplifting sidewalks or driveways, trees posing a halt in a new structure, trees that begin to grow too big for a given area, and trees that become an overall nuisance. It is important to remove a dead tree as they can pose a safety risk if they fall.
Emergency Storm Tree Services Rockville
At Ed's Tree Service we also offer immediate care in the case of storm damage. during storms, it is possible for trees or tree branches to fall on a house, deck, fences, sheds, or cars during wind, ice, or snowstorms. Our crews are trained to remove trees from structure sand houses with various sized cranes.
There are four general insurance-related guidelines for storm damage and fallen trees. *That being said, your coverage may differ so please review your specific policy coverage to confirm or contact your insurance provider for questions*.
Four related guidelines*:
Insurance policies typically cover all or part of the cost to remove trees or branches from your home or other structure/building.
Insurance policies do not cover trees and branches that fall on lawns, driveways, or bushes.
If your healthy tree or its branches fall on a neighbor's property during a storm you are not responsible for the damage. The neighbor's homeowner's insurance will cover clean-up and repairs to their property.
If your dead tree or its branches fall on a neighbor's property, you will be held responsible for the damages due to negligence. Protect your financial well-being by removing dead trees and dead branches. Keep healthy trees pruned to avoid property damage or bodily injury.
If you need tree services for your Rockville property, you can contact Ed's Tree Service at 301-937-6269 with any additional questions you might have.