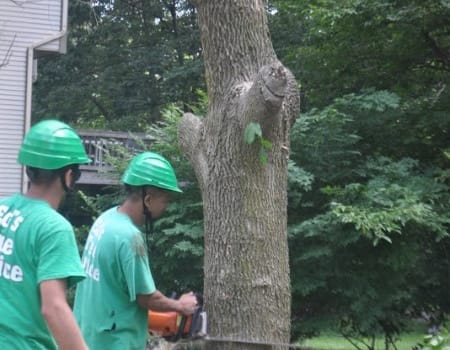 Tree removal, whether essential or cosmetic, can improve the look and safety of your lawn. If you're curious about tree removal but aren't sure where to start, we can help.
Tree removal can be a dangerous job that is best done by a professional. Here are a few reasons you may want to consider tree removal:
Your tree is in the way– If you're trying to build a new structure, you may need to remove a tree or two.
Your tree is dead– Dead trees can fall at any time and are unsightly in your yard. We'll remove them before they can cause damage and leave behind a more groomed looking lawn.
Your tree is threatening damage to your home– Sometimes trees can grow too close to your home and threaten damage during a storm or simply by rubbing branches.
Your tree has become a nuisance– Perhaps you're simply tired of leaf clean up every year or you just have a tree that you no longer want. Whatever your reason, we can help.
Why Ed's Tree Service is the right choice for your Gaithersburg tree removal needs
At Ed's Tree Service we've handled all sorts of tree removals, from small scale projects to large trees fallen on homes. We understand the necessary precautions needed to ensure the job is done correctly and our team is fully licensed and insured. We offer free estimates of work as well so that you know what to expect before we get started. While we're there we can also assess your tree's health and identify possible threats that may not be visible to someone on the ground. Our goal is to ensure your complete satisfaction and make your home safer and more beautiful in the process.
To schedule a free Gaithersburg tree removal estimate with Ed's Tree Service call 301-937-6269 or click here.
---
Gaithersburg, MD is located in Montgomery County and has a population of just under 70,000 people.