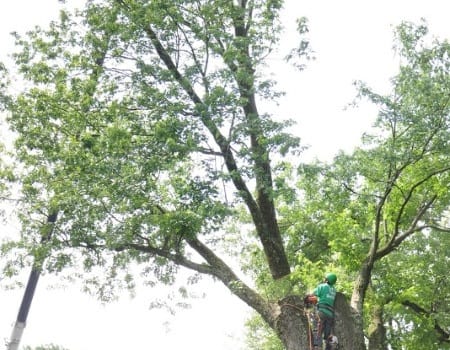 If you're looking for a professional tree trimming service to help safely beautify your trees, look no further. Ed's Tree Service has decades of experience with tree removal, stump removal, and tree trimming. Our experts can assess your tree's health and determine which branches may need removal to improve the health and look of your tree, making a huge difference in your overall curb appeal.
While many of our customers come to us for tree trimming simply to improve the look of their trees, there are several reasons to hire a professional tree trimming service.
You have dead branches– Dead branches can fall at any time and can also ruin the look of your tree. We can remove the dead branches so your tree can continue to flourish.
The tree threatens damage to your home– If you have a tree you love but it's a little bit too close to your home we can trim your tree and remove branches that pose a threat to your home without having to fully remove your tree.
You wish to prolong your tree's life– occasionally tree branches will rub against one another which can threaten the health of your tree. We can thin the branches and reduce the number of branches rubbing together and ensure a long life for your tree.
You wish to see more light in your yard– Trees can be a great source of shade but sometimes they offer too much shade. By thinning out the branches you can allow more airflow and light in your yard while keeping the tree.
Our team of expert tree trimmers is fully licensed and insured. We're highly trained in tree removal, trimming, and stump removal. We can assess your tree's health and make recommendations on how to prolong its life and beauty. We've served thousands of customers over the past few decades and aim to satisfy each customer we work with to earn reviews like the one below:
"This company did a great job! After receiving 4 bids, they were the most affordable. They arrived on time. Worked very efficiently. Cleaned up afterwards. And worked hard to make sure that we were pleased with the job. Our trees look great. We would use them again."
To schedule a free estimate for Maryland tree trimming with one of our expert tree trimmers call 301-937-6269 or click here.
---
Maryland is home to many people who commute daily to the Washington, DC area. Granted statehood in 1788 it was the 7th state in the United States of America.