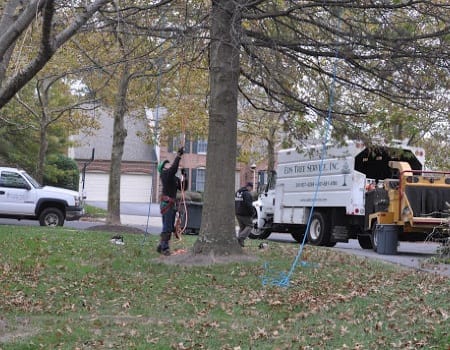 If you're in need of professional tree services in Laurel, MD look no further. The experts at Ed's Tree Service can get the job done right and give you the lawn you desire.
Tree Removal– Large or small, we'll help remove your trees safely and expediently.
Tree Trimming– Sometimes your trees just need a quick trim to give them a complete facelift.
Stump Removal– Stumps can be unsightly and ruin the look of your lawn. We'll help remove it and make it look like there was never a stump in the first place.
Emergency Tree Removal– In an urgent situation where a tree has fallen on your house or other structure, we can help remove the tree safely and help with your insurance claim.
Why You Should Trust Ed's Tree Service for Your Next Tree-Related Project
Our experts are fully licensed and insured and have worked with thousands of clients over the years. We strive for your complete satisfaction and even offer free estimates of work so you know what to expect before we get started. If you're in need of tree services give us a call today and find out why so many clients trust Ed's Tree Service.
"I sent detailed descriptions of the requested work to three companies. Ed's was the only one to respond and they did so almost immediately. Within two days someone came to the house and reviewed with me the work to be done. The quote reflected accurately the work to be done. Scheduling was back and forth, an early date to do the work was postponed when an emergency came up. We scheduled the work for ten days in the future but they called when an early opening arose. Confident that the work to be done was straightforward, I gave permission to do the work in my absence. That was my mistake because two additional branches were cut off which will reduce the shade on our back patio for several years. The work was done well, they just did a bit too much of it."