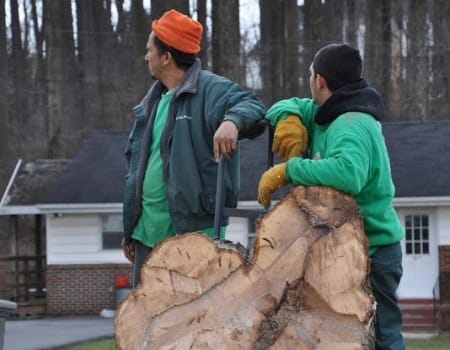 Many people have gotten into DIY projects this year to improve their homes. While there are a number of outdoor projects you may have completed, stump removal shouldn't be one of them. Stump removal can be a dangerous job and end up making your yard look worse if done incorrectly. If you're in need of stump removal to help achieve your yard goals call Ed's Tree Service.
The machine is brought to your home– Depending on the size of your stump we'll either bring a large or small stump grinder. We will carefully place the stump grinder where it needs to be with the utmost care so as not to disturb other areas of your lawn.
The stump is ground down to destroy the root ball– When we remove a stump we work to ensure the rootball is completely destroyed to avoid any possible spread of disease to your other plants and allow more room for their roots to grow.
We fill the hole and remove the machine– Perhaps the most important step, we can fill the hole that's left behind with the mulch left over from the stump, leaving you excess mulch for other areas of your lawn, or we can remove it entirely. We aim to leave the area looking like there was never a stump in the first place so you can enjoy your beautiful lawn immediately.
When you call Ed's Tree Service for a free consultation, we'll discuss what you need done and make recommendations if you're unsure of what you need. We'll assess the state of your stump to determine what equipment will be needed to complete the job and provide you with an estimate of our work. Our team is fully licensed and insured so you know the job will be done safely and effectively.