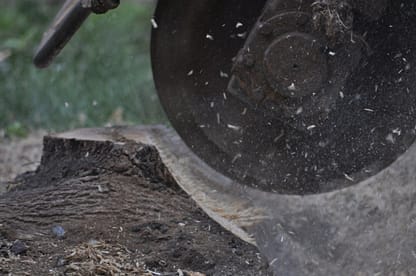 After a tree has fallen or been removed, it is important to efficiently remove your tree stump. Professionals, such as Ed's Tree Service, can remove the unwanted stumps with minimal disruption to the surrounding yard.
There are several steps involved in making sure the stump removal is efficient and effective. It involves the rights skills and equipment that only the experts have.
It can be tempting to try to take the large and unsightly tree stumps out yourselves, but tree stump removal in Bethesda, MD should be taken care of by licensed and insured professionals, such as Ed's Tree Service.
It's also our environmentally friendly practice to let the resulting mulch replenish your soil, unless you prefer for us to haul the mulch and replace it with topsoil and seed.
There are two types of stump removal options for your property:
Small stump removal: Small stump grinding machines are self-propelled and designed to fit through 36-inch-wide openings. We will grind the stump down 2-6 inches below the surface. Then we will grind an additional foot of surrounding ground to reach the roots.
Large stump removal: In order to destroy the root ball, we will grind the stump down 12 inches below the surface and another additional foot of surrounding ground to reach the roots. This is done using a stump grinding machine that will arrive at your property trailered by a pickup truck.
Safely Remove Your Tree Stump
There are many people who have tried to unsuccessfully remove the stump without professional help, causing danger to themselves and their property. In order to get the job done smoothly and safely, hire a professional for correct stump grinding.
The experts at Ed's Tree Service have the experience, knowledge and equipment to remove your tree stump safely and quickly.
Contact the professionals at Ed's Tree Service today to remove your Bethesda, MD tree stumps.
---
Bethesda is located in southern Montgomery County, Maryland, just northwest of the U.S. capital of Washington, D.C. Bethesda, MD is an unincorporated community and is estimated to have a population of about 63,000 residents.