Finding reliable experts in arbor care and tree removal is a vital part of your yard safety and upkeep. Ed's Tree Service works to help the people of Rockville remove their unwanted or dead trees safely and securely.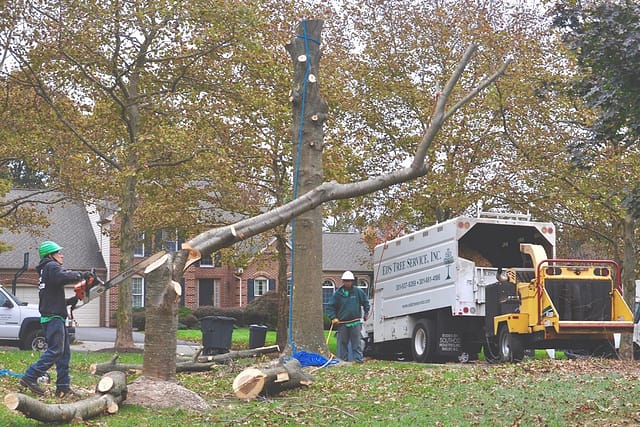 Protecting trees is an important part of ethical arbor care. We work to provide accurate and safe removal procedures to get rid of the dead or unwanted trees in your yard/property. At Ed's Tree Service we take our arbor care responsibilities seriously. Our commitment to our clients, community, and the environment is at the top of our list of concerns. We work to provide our clients with healthy trees, providing a variety of removal options and information in clear, understandable terms. Our experts will inspect your yard/property to identify any safety risks and target dead or problem trees.
Tree Removal Rockville Options
Why might a person remove trees? There are a variety of answers as to why.
At the top of the list are dead trees. Trees that are dead can pose a safety risk. Dead trees will need to be removed before they fall and cause possible destruction. Sometimes trees or tree roots will grow into the foundation of a home or lift up a sidewalk/driveway. In this event, the tree(s) or roots will likely need to be removed.
Trees can also get in the way of buildings. If you are building a new structure they may get in the way and need to be removed. When a tree grows too big for an area in which it was planted, it may need to be removed. If the tree becomes an overall nuisance.
When and if a tree needs to be removed, we have highly skilled crews. Our crews use their specialized technical rigging equipment and or cranes to handle the job professionally, efficiently, and as safely as possible. At Ed's Tree Service we employ some of the most experienced professional tree climbers in our industry. At Ed's Tree Service our method is designed to protect people, structures, and landscaping when removing any trees.
At Ed's Tree Service we don't just offer tree removals, we offer a variety of ethical arbor care needs. This can include services such as:
Stump removals
Tree fertilization
Tree pruning
Tree trimming
Ash Borer tree removals
Emergency tree removals
We aim to provide the best quality arbor care for all of our customers in the Rockville area and beyond.
Rockville Tree Removal Professionals
We're professionals on-site and off and are proud of our reputation of exceptional customer service for promptly returning phone calls, setting appointments, and providing high-quality tree care when you need it. Our customers regularly thank us for our honesty, professionalism, and commitment to their satisfaction. We're very grateful for our customers and what they say about us, so you can see why you need to call us before deciding on a tree service company.
We are grateful to have wonderful clients and a wonderful community. We are often humbled by the great reviews our customers leave us.
"When Ed's crew does the job, it always goes well. They arrived on time and were very competent and professional in the way that they did the work. They are easy to talk to, and they take care to do everything correctly and to clean up after the job is done."