Ed's Tree Service has been providing professional tree service in Rockville, MD since 1987
Ed's Tree Service has provided expert tree removal and tree care services to homeowners, commercial properties, and government properties since 1987. We believe it's important to provide an easy, seamless experience. With over 30 years of experience and more than 15,000 satisfied customers, your satisfaction is our priority.
We are a woman-owned, family-run small business. Alice and Ed founded Ed's Tree Service to provide outstanding tree care to the Maryland community. When it was time for Ed to retire, Ed and Alice's son, Kevin, joined Alice in leading the firm.
It's extremely important to be licensed and insured when working in the tree industry. Professionalism is one of our top priorities and we believe we have the qualifications and credentials to show it. Alice holds our license (#557) and we can have the insurance company mail or fax a certificate of insurance verifying our liability and workman's comp coverage if needed.
Below are the services we provide for tree care in Rockville, MD.
Tree trimming and tree pruning is essential for the health, beauty, and safety of your trees. When trees are pruned properly, it helps to prevent damages to property or people. It also increases airflow which will lessen the possibility of damage from a storm.
Our tree trimming company in Rockville, MD specializes in services including crown cleaning, thinning, raising/elevating, clearing, reduction, and wound assessment. Benefits of investing in these services would include: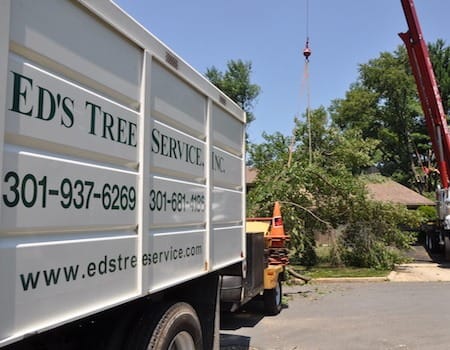 Remove dead branches
Keep limbs from damaging roofs and gutters
Prevent crowding and rubbing branches
Reduce safety hazards
Increase light and air penetration
When a tree needs to be taken down, our highly skilled team uses specialized technical equipment to handle the job as safely and efficiently as possible. Our crew consists of some of the most experienced professional tree climbers in the industry. Our tree removal process is designed to protect people, structures, and landscaping from damage and injury.
Our tree removal company in Rockville, MD will analyze your current situation considering factors such as:
Most Important: if the tree is dead or poses safety risks. Dead trees need to be removed quickly to prevent damage from falling
Trees or roots are growing into foundations or lifting sidewalks/driveways
Trees get in the way when building a new structure
Tree grows too big for the area it was planted in
Trees become a nuisance
We assist immediately in the case of storm damage. Trees and branches may fall on your property during severe weather. Our crews are specifically trained to remove trees from structures and objects with our various sized cranes.
Our expert tree removal cost estimates speed up payment authorization from your homeowner's or business property insurance. You can expect us to contact your insurance agent, explain the situation, get approval, and bill your insurance company directly if possible to avoid out-of-pocket costs. With that in mind, it's important to know these four general insurance guidelines when it comes to storm damage:
Insurance policies typically cover all or part of the cost to remove trees or branches from your home or other structure/building.
Insurance policies do not cover trees and branches that fall on lawns, driveways, or bushes.
If your healthy tree or its branches fall on a neighbor's property during a storm you are not responsible for the damage. The neighbor's homeowner's insurance will cover clean-up and repairs to their property.
If your dead tree or its branches fall on a neighbor's property, you will be held responsible for the damages due to negligence. Protect your financial well-being by removing dead trees and dead branches. Keep healthy trees pruned to avoid property damage or bodily injury.
*Your coverage may differ; review your specific policy coverage to confirm or contact your insurance provider if you have questions.
After a tree falls or is removed, the stump that remains can be unsightly and dangerous. Ed's Tree Service removes stumps with minimum disruption to the surrounding yard. Our goal is to leave your yard more beautiful and hazard-free.
At Ed's Tree Service, we have the right skills, machines, equipment, and expertise to remove your stump efficiently and effectively. It's our environmentally friendly practice to let the resulting mulch replenish your soil once the stump has been removed.
Most tree owners don't realize how important it is to feed their trees. Micronutrients are vital to avoid malnourished trees. In populated areas, trees must contend with pollution and soil depletion over the course of their long lives. Fertilization can give them the boost they need to stay strong and healthy.
We recommend the Mauget Tree Injection Process. This liquid fertilizer is injected directly into the sap wood at the base of your tree. We use a Stemix micro-injector to deliver a mineral formula designed to stimulate growth of the tree foliage, trunk, and root system.
We drill a small hole (only 3/16 of an inch in diameter and no deeper than ¾ of an inch) every 6 inches around the base of the tree to insert the fertilizer capsules. Because the puncture wounds are tiny, the tree recovers quickly and the nutrients are efficiently absorbed into the tree's sap stream and circulated throughout the tree. We recommend watering the tree when it is injected to help the process along.