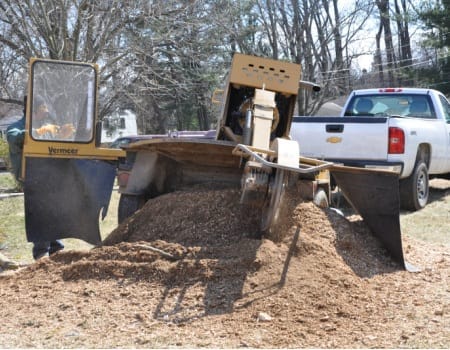 Stumps can be a major eyesore in your yard and can ruin your curb appeal. No matter how good of a gardener you are, it's hard to distract from an unsightly stump. If you have a stump in your yard that needs to be removed professionally, call Ed's Tree Service and we'll be happy to help.
We remove stumps of all sizes from your yard as safely as possible. Stump removal can be a dangerous job but our highly trained team of experts are prepped and ready to handle your stump removal needs.
Small stump removal– Small stump removal requires a stump grinder for proper removal. We grind down 2-6 inches underground to ensure the tree's rootball is completely destroyed. The stump grinder can be brought in on a truck and carefully maneuvered through openings as small as 36 inches.
Large stump removal– Large stump removal also requires a stump grinder, but a much larger one. These machines typically have to be put into place by a truck to properly access the stump. We grind these stumps down about a foot below the surface to ensure the rootball is destroyed.
Our team is fully licensed and insured and has decades of experience removing stumps, taking down trees, and pruning trees. We aim to make your yard beautiful and something you can be proud of. We'll quickly remove your stumps and leave your yard looking like there was never an unsightly stump there in the first place. Read one of our many rave reviews from a satisfied client:
"Professional, friendly, and efficient. They took the time to answer all our questions and we had our estimate quickly sent to us. When we approved the work it was completed quickly and expertly. Great job!"
To schedule a free estimate from Ed's Tree Service for Laurel Stump Removal call 301-937-6269 or click here.
---
Laurel, MD is located near Baltimore and Washington, DC. The city was founded in the early 19th century as a mill town located along the Patuxent River.