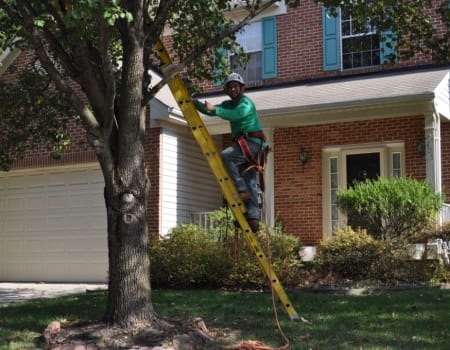 It's not always obvious that you're in need of tree removal. Sometimes you have a dead, or dying, tree that is clearly a threat to your home and surrounding structures, while other times the threat your trees are causing may not be as evident. Whether you're looking for immediate tree removal or just a quick consultation and some advice, we can help.
Your tree is dead– One of the most obvious reasons for tree removal is that the tree is dead. It can take years for a dead tree to fall but that's not a risk you should take. A dead tree can fall at any time, rain or shine. It's best to have it removed before it has a chance to cause any damage.
The tree is in the way– If you're building a new structure or redoing your landscape you may need to have a tree or two removed.
The roots are causing damage– Tree roots can grow into your foundation, sidewalks, and driveways causing all sorts of damage. If your tree roots are going to cause damage to your property, it's best to have the tree removed before it can get any worse.
You no longer want the tree– Sometimes your tree is perfectly healthy but you no longer want it on your property. Perhaps it's for more light or you simply no longer want the tree where it is, either way, we can remove it safely.
There are plenty of DIY jobs that you can do around your home, tree removal is not one of them. Tree removal is a dangerous job that is best left to the professionals. Our team is fully licensed and insured so when you've decided it's time to have a tree removed, give us a call and we can provide you with a free estimate.
---
Bethesda, MD has a population of over 60,000 and is located just outside Washington, DC.