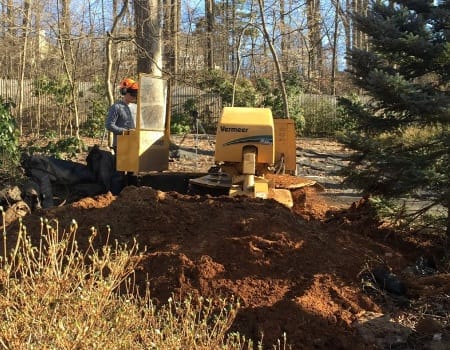 Do you have stumps in your yard that ruin your curb appeal, but you're not sure how to get rid of them? There are plenty of do-it-yourself tips and tricks on the internet, but the best way to make sure your stump in Laurel, MD is removed safely and properly is to consult with an expert.
Removing a stump involves a several step process and requires the proper skills and equipment. Typically, we have two ways of removing your stumps:
Removing the large stumps– When you have larger stumps that need removing, we will bring a large stump removal machine to your yard. The machine is brought in on a trailer, and our driver will carefully maneuver the machine to the stump. We then grind the stump down 12 inches below the surface to ensure the root ball is destroyed.
Removing the small stumps– Smaller stump removal is a little simpler. For this, we use a self-propelled machine that does not need to be brought in by truck. These machines will grind your stump down 2-6 inches below the surface to ensure removal.
Once your stump is fully removed, we grind it into mulch, which can be used to fill in the hole where your stump once was.
Stump removal is an environmentally friendly practice. The mulch that results from your stump removal can be used to replenish your soil. If you have no use for the mulch anywhere in your yard, you also have the option for us to haul away the mulch and replace it with topsoil and seed.
Stump removal can be dangerous if done improperly and replace your unsightly stump with an equally unattractive hole. The experts at Ed's Tree Service have decades of experience and have served over 15,000 customers. We're fully licensed and insured, so you know the job will be done correctly and with safety top of mind. We also offer free estimates, so you know what to expect before we get started.
To schedule your free estimate for your Laurel stump removal, call 301-674-8375 or reach out online.
---
Laurel, MD is located almost exactly halfway between Washington, D.C. and Baltimore along the Patuxent River, and was originally founded as a mill town in the early 19th century.