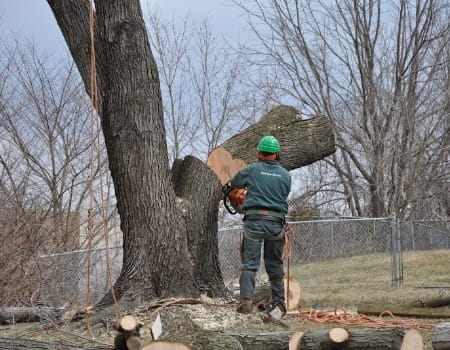 Are you thinking about removing trees on your property, but aren't sure where to start? The experts at Ed's Tree Service are here to help you with all your Chevy Chase tree removal needs. But, if you're not sure if you need tree removal, keep reading.
You have a dead tree– Dead and dying trees can be a huge safety risk to your surrounding structures as well as anyone near the tree. A strong wind could knock branches from your tree into a building or person below. It's best to remove the tree before it causes damage or hurts anyone.
Your tree's roots are causing damage- Tree roots can grow up through your sidewalks, driveways, and parking lots, causing damage. To avoid this, it's best to remove the tree before you need to replace your entire walkway or driveway.
You have trees that are too large– Trees can grow too large for the area they were originally planted. If you have trees that are too large and may pose a future threat, we can help you remove them safely.
Your tree is in the way– Perhaps you're building a new structure, working on your landscape, or you're just tired of mowing around a tree in your yard. No matter the reason, your tree is in the way and needs to be removed.
You no longer want the tree– Your tree does not need to be dying or in the way for you to want it removed. Removing a tree can increase light in your yard, free up some space, and reduce leaf cleanup in the fall. If your tree has become a nuisance or you don't want it anymore, we're here to help.
The best place to start when you're looking for a tree removal company is by making sure they'll get the job done right and safely.
Ed's Tree Service is fully licensed and insured. We've been assisting customers for decades and know how to remove your trees the right way. We'll come out and provide you with a free estimate of the work, so you know what to expect beforehand and can provide our professional recommendations for what your trees need.
To schedule your free consultation for your Chevy Chase tree removal, call 301-937-6269 or reach out online.
---
In 2010, the U.S. Census reported that 2,824 people resided in Chevy Chase, MD. It borders Washington, D.C., and Montgomery County, Maryland.