Effective Stump Removal Solutions in Bethesda, MD
The removal of stubborn tree stumps can pose a challenge to maintaining a beautiful and well-manicured outdoor space. With years of experience and a dedicated team, we are your go-to stump removal company in Bethesda. Ed's Tree Service has efficient services that meet your needs.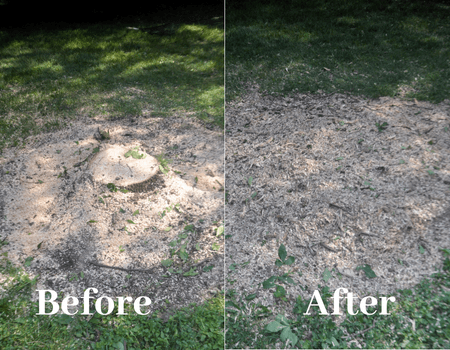 Your tree experts: We specialize in stump removal and ensure the complete uprooting of unwanted stumps from your property. Our team consists of highly skilled trained professionals. Each team member possesses the knowledge and experience needed to tackle stumps of all sizes, types, and complexities.
Advanced equipment and techniques: At Ed's Tree Service, we understand the importance of using the right tools for the job. That's why we use professional equipment and advanced techniques to ensure safe and efficient stump removal. Our machinery is specifically designed to minimize disturbance to the surrounding area while maximizing effectiveness, leaving you with a clean landscape.
Customized solutions: Every stump removal project is unique so we recognize the need for tailored solutions. We take the time to assess the specific requirements for each case. This means considering factors such as stump size, location, and overall landscape goals. This personalized approach allows us to develop a comprehensive plan that aligns with your needs and delivers exceptional results.
Safety and professionalism: Our team adheres to strict safety protocols throughout the entire process. This protects the well-being of both our workers and your property. We are fully licensed and insured, so you know your stump removal project is in capable and responsible hands.
We understand what it means to have long-lasting relationships with our customers. We do our best to meet the needs of every last one. That's why the opinions of our customers are extremely valuable to us. Below are some reviews from customers.
"From the estimate to the final bill, every employee was as good as it gets. Taking down a large dying oak took no time at all, and a few large pieces caused some damage to the lawn. No problem. Prestige sent a crew to fix it in a day. The price was very fair. Highly recommended!"
Rick K.
"They were prompt and very thorough with their estimate. Willing to explain the cost and what was involved. They then showed up on time and ready to work. Spent the whole day trimming and removing a few dead trees and did a great job. Exceeded my expectations."
JA.
"These guys are fantastic. They did a wonderful job grinding the backyard stump. They graded the ground and the end result looked as though there was never a tree there. Awesome service!"
Alex T.
To schedule a free estimate for your stump removal in Bethesda, Maryland, call 301-937-6269 or fill out our online form.