When a tree falls or is removed, the remaining stump can be unattractive. Ed's Tree Service removes stumps with minimum disruption to the surrounding yard.
Efficient and effective stump removal requires several steps as well as the right skills and equipment. It's our environmentally friendly practice to let the resulting mulch replenish your soil unless you prefer for us to haul the mulch and replace it with topsoil and seed for an additional charge.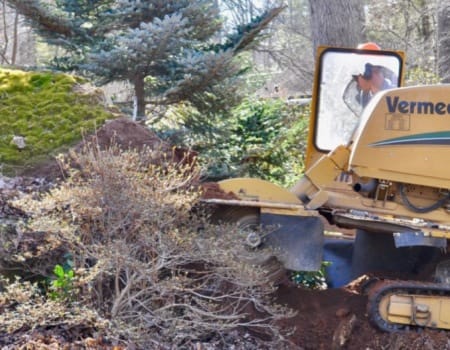 At Ed's Tree Service we provide stump removal for large and small stumps in Bethesda, Maryland, and surrounding areas. We are tree experts and professionals that use a variety of machinery to grind stumps and remove hazards that tree stumps may cause in your yard.
Services include large stump removal and small stump removal, in addition to other services Ed's Tree Service can provide such as tree removals, tree fertilization, tree trimming, ash tree removal, and more.
We will bring our stump grinding machine, known as stump removal machines, as they are the key to efficiently grinding stumps into mulch. Larger stump removal requires a machine that is tailored to your property a pick-up truck. Our driver will carefully back the truck and stump removal machine across your hard-to-reach large stump, then grind the stump down to 12 inches below the surface, effectively destroying the root ball.
Small stump removals have a self-propelled machine. With smaller stumps, they do not need to be moved into place. They will typically grind stumps from 2-6 inches below the surface.
What Happens To The Stump Mulch, Stump Removal Bethesda
As soon as we grind the stump into mulch, we will use that mulch to fill back up the whole. Over time, the mulch from the said stump will settle back into the ground. It will then nourish the soul as it settles. If you prefer another option, we can also remove the ground stump mulch and then replace it with topsoil and seed for an additional charge.
To date, we have had over 15,000 customers. We are a top-rated tree removal company as tree care expertise goes hand in hand with our down-to-earth attitude and approach. We have a high level of commitment to personal service and total satisfaction for our customers. Our arbor care specialists are trained to get the job done and believe in giving you exceptional tree care services. We have skilled climbers for tree cutting and tree trimming as well as experts in crane operation for bigger jobs.
We aim to provide quality work as we believe professionalism starts with recognized credentials and qualifications. As required by all Maryland tree service companies, we are licensed and carry liability and workman's compensation insurance. Co-owner Alice Fernandes holds our license (#557) and if needed, we can have the insurance company mail or fax a certificate of insurance verifying our liability and workman's comp coverage.
Bethesda Stump Removal and Tree Services
We offer a range of tree services, covering arbor care such as emergency removals, stump removals, general tree removals, ash borer tree removals, tree fertilization, tree trimming, and pruning.
If you are in need of emergency tree removal from storm damage, fallen trees or branches, etc., you can call us anytime. We will try to get back to you as soon as possible – absolutely within hours. One of our tree service estimators will come to your property, provide a written estimate and go over the details with you.
If you are in need of stump removal in Bethesda, MD highly recommended by our customers, you can contact us on our website or give us a call at 301-937-6269