Removing trees can be a dangerous and difficult process. Calling in your expert tree care professionals is not only the best option but the most reliable for tree removals. That's why Ed's Tree Service is here to help with all of your tree removal needs in Gaithersburg, MD.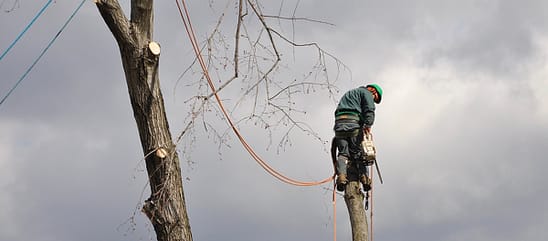 Tree removals are an important part of tree care. Making sure you are ensuring the safety of your family, neighbors, and the environment around you is vital when it comes to owning property. Tree extraction services like Ed's Tree Service can help alleviate the stress that dead or potentially hazardous trees may cause.
Ed's Tree Service removes trees for various reasons:
One of the most important reasons is if the tree is dead or poses safety risks, dead trees need to be removed before they fall. It can be hazardous when an unexpected storm arrives or the tree falls due to being sick/dead.

If the trees and or roots are growing into foundations or roots are lifting up sidewalks or driveways. This is important to address as it can affect people walking, passerby, family members, etc.

If the trees get in the way when building a new structure. This can be a hassle and a necessary process in order to continue your building process. Removing the tree eliminates complicated building issues.

If the tree grows too big for the area it was planted in, it can create issues for your safety or building.

If the trees become a nuisance. Sometimes trees can be stubborn and benefit from being removed.
When a tree needs to be taken down, our highly skilled crews use specialized technical rigging equipment and/or cranes to handle the job as safely and efficiently as possible.
Ed's Tree Service employs some of the most experienced professional arbor climbers in the industry and our tree removal process is designed to protect people, structures, and landscaping.
Professionalism starts with recognized qualifications and credentials. All Maryland arbor service companies must be licensed and carry both liability and workman's compensation insurance.
Ed's Tree Service also provides expert emergency storm tree removal services. We can assist you immediately in the case of storm damage. Trees and branches may fall on a house, deck, fences, sheds, or cars during wind, ice, and or snowstorm. Our crews are trained to remove trees from structures and houses with variously sized cranes.
You can expect expert services such as:
A tree service estimator will come to your property, provide a written estimate and go over the details with you.

If a tree or branch falls on your house, fence, garage, or other structure, our reputation and guidance will move you through the insurance claims process, maximizing your policy coverage and minimizing your stress.

Our expert crane operators and tree removal crews take great care to protect and preserve your property. A tree falling on your house is bad enough; no one should have to deal with additional unnecessary damage from tree removal!
Expert Tree Removal Insurance Policies
At Ed's Tree Service we will give you an estimate and help authorize payment through your homeowner's insurance. In some cases, we can bill the insurance company directly, so you don't have any out-of-pocket expenses.
However, there are fur general insurance associated guidelines for storm damage that you should be aware of *
Insurance policies typically cover all or part of the cost to remove trees or branches from your home or other structure/building.

Insurance policies do not cover trees and branches that fall on lawns, driveways, or bushes.

If your healthy tree or its branches fall on a neighbor's property during a storm you are not responsible for the damage. The neighbor's homeowner's insurance will cover clean-up and repairs to their property.

If your dead tree or its branches fall on a neighbor's property, you will be held responsible for the damages due to negligence. Protect your financial well-being by removing dead trees and dead branches. Keep healthy trees pruned to avoid property damage or bodily injury.
If you need an
expert in tree removals for your Gaithersburg, MD
property, you can contact Ed's Tree Service at 301-937-6269 or email us with any additional questions you might have.