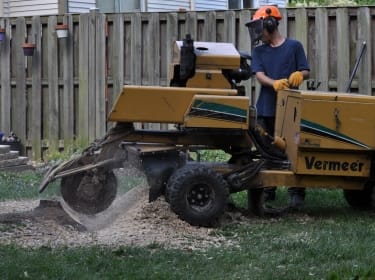 Are you having trouble finding stump removal? Getting rid of large and small stumps can be a tall task, that's why Ed's Tree Service is here to help our Maryland friends in Kensington and beyond to get rid of their unsightly tree stumps!
Stump removal can be a confusing process when you aren't sure what to do or who to turn to. Ed's Tree Service provides large and small stump removal to take away those pesky tree stumps that live in your Kensington yard. Along with tree removal, Ed's Tree Service has experts ready with professional machinery to remove your tree stumps and create a beautiful yard for you once again.
Ed's Tree Service provides all types of arbor care ranging from tree fertilization to tree removal and more.
Efficient and effective stump removal requires several steps as well as the right skills and equipment. It's our environmentally friendly practice to let the resulting mulch replenish your soil, unless you prefer for us to haul the mulch and replace it with topsoil and seed for an additional charge.
Large Stump Removal: A large stump removal machine arrives at your property trailered by a pickup truck. Our driver will carefully back the truck and stump removal machine across your yard to reach a large stump, and then we will grind the stump down 12 inches below the surface to effectively destroy the root ball.
Small Stump Removal: Smaller stump machines are self-propelled and do not need to be moved into place by a pickup truck. The machines are also designed to fit through 36 inch-wide openings and will grind smaller stumps down 2-6 inches below the surface.
You can expect any stump removal process to include grinding the stump itself plus an additional foot of surrounding ground in order to reach larger underlying roots. If needed, we will grind larger areas to remove unsightly or annoying surface roots as well.
Once we grind the stump into mulch, we use that mulch to back-fill the hole. Over time, the stump mulch will settle back into the ground and nourish the soil. If you prefer, we will remove the ground stump mulch and replace it with topsoil and seed for an additional charge.
Stump removal machines are the key to efficiently grinding stumps into mulch, and we use different machines for different jobs.
Ed's Tree Service is a licensed and insured Maryland tree care service. Professionalism starts with recognized qualifications and credentials. All Maryland tree service companies must be licensed and carry both liability and workman's compensation insurance. Co-owner Alice Fernandes holds our license (#557) and if needed, we can have the insurance company mail or fax a certificate of insurance verifying our liability and workman's comp coverage.
To date, we've had over 15,000 customers, and are a top-rated tree removal company. At Ed's Tree Service, tree care expertise goes hand in hand with our down-to-earth attitude, commitment to personal service, and total satisfaction.
To inquire about your
stump removal in Kensington, MD
you can request a free estimate or call with any questions at 301-937-6269