Tree removal can be a vital part of any tree care and yard safety needs. Ed's Tree Service is here to help the residents of Bethesda get the expert and top-quality tree care they need.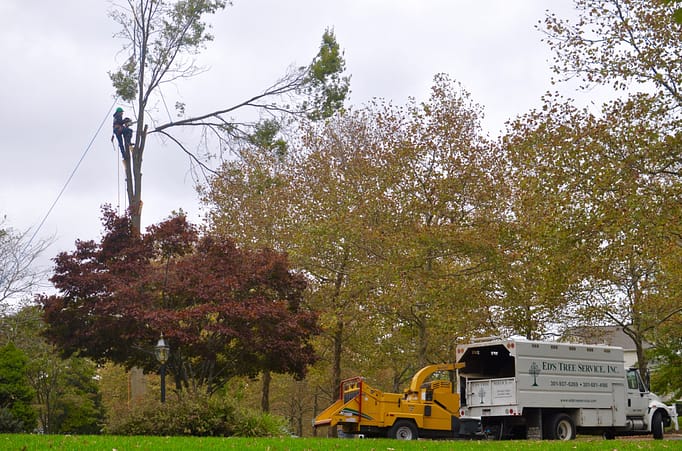 Tree removals are important because they can protect your yard, the ecosystem, and your family. No one wants an unexpected fallen tree or storm damage to ruin a home or life. Ed's Tree Service provides tree removals, big and small, to help protect our Maryland neighbors.
Tree removals can help prevent a multitude of possibly harmful issues. Ed's Tree Service recommends tree removal if:
Most importantly, if the tree is dead or poses safety risks. Dead trees need to be removed before they fall.

If the said trees or tree roots are growing into foundations of a walkway or given area.

If the tree roots are lifting up sidewalks or driveways causing a disturbance or possible hazards.

If the said trees are getting in the way when building a new structure and need to be removed to resume.

If the tree has been growing and is now too big for the area it was once planted in.

If the trees become a nuisance.
When a tree needs to be taken down, our highly skilled crews use specialized technical rigging equipment and/or cranes to handle the job as safely and efficiently as possible.
Ed's Tree Service employs some of the most experienced professional tree climbers in the industry and our tree removal process is designed to protect people, structures, and landscaping.
Finding the right professional to take care of all of your arbor needs can be a long and daunting task. Knowing who to trust to take care of the well-being of your yard, trees, and home is a serious business.
That's why Ed's Tree Service values its customers and their home environment. We're professionals on-site and off and are proud of our reputation of exceptional customer service for promptly returning phone calls, setting appointments, and providing high-quality tree care when you need it.
Our customers regularly thank us for our honesty, professionalism, and commitment to their satisfaction. We're very grateful for our customers and what they say about us, so you can see why you need to call us before deciding on a tree service company.
At Ed's Tree Service we will evaluate your property and said trees of interest to provide the best estimates and evaluations. Not only does Ed's Tree Service offer tree removals for trees of all sizes, but we offer a variety of other tree care expertise to help improve health, increase longevity, or beautify your trees and property.
Ed's Tree Service provides:
Emergency Tree Removal: We can assist you immediately in the case of storm damage. Trees and branches may fall on a house, deck, fences, sheds, or cars during wind, ice, or snowstorm. Our crews are trained to remove trees from structures and houses with variously sized cranes.

Ash Tree Removal: In order to stop the spread of the Emerald Ash Borer Beetle, the USDA has imposed strict regulations for quarantining and disposing of infected ash trees. With professional ash tree removal, you can be sure that these regulations are adhered to. This is important because Emerald Ash Borer Beetles will continue to live in the wood of a dead tree.

Stump Removal: When a tree falls or is removed, the remaining stump can be unattractive. Ed's Tree Service removes stumps with minimum disruption to the surrounding yard.

Tree Trimming & Pruning: Tree trimming and pruning is essential for the health and beauty of your trees and for your personal safety. If you have ever thought about how your home would look after watching one of those home makeover shows, just wait till you see the difference our tree care services can make!

Tree Fertilization: The care and feeding of trees is a new subject to many of our customers, and as tree experts we want you to understand all its benefits. Micronutrients are essential to avoid malnourished trees. In populated areas, trees must contend with pollution and soil depletion over the course of their long lives and fertilization can give them a much-needed boost.
As you can see there are lots of ways to help increase the health of your yard and its natural inhabitants. Ed's Tree Service works with its customers to come up with the best plan of action.
Where Does Ed's Tree Service Provide Tree Removal
Ed's Tree Service has been serving the Maryland community with over 15,000 customers. We provide services in Rockville, Bethesda, Gaithersburg, and more! Our long-term office teams know how to make sure we can assist you quickly, and will always communicate clearly to make sure everything stays on time.
If you are in need of experienced tree removal care, Ed's Tree Service is here to provide top-quality work. We are professionals who want to help keep our Maryland counties safe, environmentally healthy, and happy.
Our customers have expressed:
"When Ed's crew does the job, it always goes well. They arrived on time and were very competent and professional in the way that they did the work. They are easy to talk to, and they take care to do everything correctly and to clean up after the job is done."
To learn more or
request a free estimate, call us at 301-937-6269.