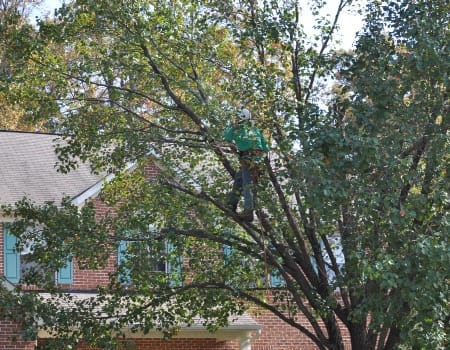 Seasonal tree care is a vital part of caring for your trees properly. During the summer months, your trees can experience extreme heat and thunderstorms, and during the winter, they can experience extreme cold and snow. With all of these environmental stresses, you want to ensure that you properly trim your trees on your Rockville property to prolong the life of your tree and reduce safety risks.
If you're considering tree trimming or pruning, fall is a great time of year to do it. The leaves are falling off of your trees, so problem branches are easier to spot and remove. It's also a great time to prepare for winter storms that could potentially knock dead or dying branches down onto vehicles or structures below. You want to make certain that you take care of your tree before it causes any damage to you or your property.
Rockville Tree Trimming Can Prolong the Life of Your Tree and Reduce Safety Issues
Some of the benefits of a good tree trimming include:
The removal of dead branches– Dead branches can hang in your trees for months or even years before falling. It's best to have them removed before they fall on something below and possibly injure someone.
Reduce crowding and rubbing branches– Tree branches can grow together and end up rubbing, causing damage to your tree. We can remove branches that are causing issues and improve the health of your tree as well as reducing crowding, so it has room to breathe.
Remove limbs that are causing damage to your roof or gutters– Limbs can grow towards your roof and gutters, scraping and harming them in the process. We'll remove limbs that are in the way to stop any damage that is occurring.
Reduce safety hazards– Whether problem branches are easy to spot or not, our team of experts can assess your tree's health and remove branches that may not be clearly posing a threat. Branches that would cause major damage if they were to fall can be cleaned up or removed entirely, so your home or business is safe.
Increase light and airflow– By removing branches, air will flow more freely through your tree, making it safe during storms, and you'll get more light below, which is great for yards that don't see much sunlight.
To learn more about tree care tips and how to prolong your tree's life, click here.
With decades of experience and thousands of satisfied customers, Ed's Tree Service is prepared to help you with all your tree trimming and pruning needs in Rockville, MD. We're fully licensed and insured, with decades of experience to ensure we'll get the job done safely and correctly. We also offer free estimates so you'll know what to expect before we get started, and we can walk you through the entire process beforehand.
To schedule your free estimate for your Rockville, MD tree trimming, call 201-937-6269.
---
Rockville, MD, is part of Montgomery County, MD, and is home to roughly 61,000 people. Rockville is a part of a major technology corridor where many software and biotech companies are located.