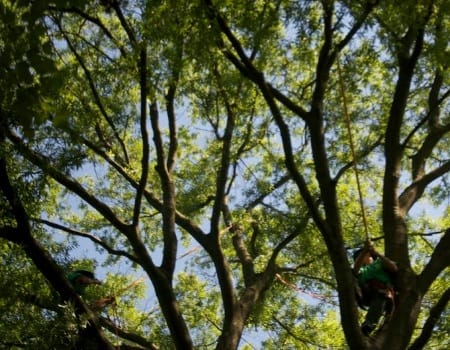 If you're looking for a quick and easy way to add curb appeal to your home, consider tree trimming and pruning. By cleaning up your trees with trimming you can not only improve their overall look but you can improve their health and reduce damage risks to your property.
Our clients come to us for a variety of tree trimming needs. Some wish simply to improve the look of their yard while others wish to trim their trees to avoid potential hazards of unkempt trees. Some of the main reasons we encounter are:
Removal of dead branches– Not only are dead branches unsightly on your trees, but they can pose a threat to your home as they can fall at any time.
Avoiding damage to the home– Tree branches can grow close to your home and damage your gutters or roof. We can help by removing branches that pose a threat to your home without having to fully remove the tree.
Protection of the health of the tree– Tree branches can occasionally become overgrown and rub together which can threaten the health of the tree. We can evaluate your trees and determine the best way to trim your tree to improve its health and remove the rubbing branches.
Increase light and air penetration– Many clients wish to increase the light in their yard without having to remove their trees. Tree trimming and pruning offer you a way to open up your yard to more light while still enjoying the look and shade of your trees.
It's important to find an experienced tree trimming service that is licensed and insured. At Ed's Tree Service we're fully licensed and insured and committed to providing top-notch service to our clients. We offer free estimates of our work so you know what to expect beforehand and with decades of experience, we'll make sure the job gets done right.
To schedule your free estimate for tree trimming in Rockville, MD with one of our expert tree trimmers call 301-937-6269 or click here.
---
Rockville, MD is home to nearly 70,000 people and located just outside of Washington, DC.