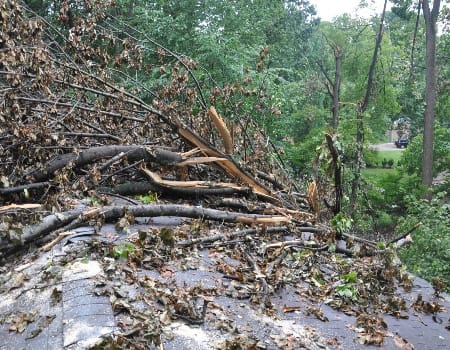 "I have never had such expert service from a tree company ever! Prompt. Courteous. Professional. The supervisor checked many times to see if the work was done to my satisfaction. Mats were laid down so the new grass was not destroyed. There were several workers carrying the limbs to be ground while others were raking to stay on top of the job. I highly recommend this company."
-Customer review, Angie's List
Emergencies happen when we least expect them. When you have a tree fall on your property, it can damage your home, vehicles, or other structures and the last thing you want to worry about is having getting it removed. When you have an emergency tree removal, call the experts at Ed's Tree Service and we'll help you get back to normal as soon as possible.
Our experts have handled emergencies like these many times over, but we understand that it can be jarring, inconvenient, and upsetting. For many people, it is a first and they aren't sure what to do or how to handle the situation. When our experts arrive we will:
Assess the situation and come up with a plan of action
We'll discuss our process with you so you understand what we're doing
We'll also contact your insurance agent and explain the situation, get approval from them, then bill your insurance company directly if possible so you can avoid out of pocket expenses
Our team is fully licensed and insured and know how to get the job done safely and quickly. We've helped thousands of customers with their tree removal, stump removal, and tree trimming needs for decades. We know how upsetting it is to have a fallen tree damage your property and that it can be just as upsetting if further damage occurs while the tree is being removed. For this reason, our highly trained experts do everything in their power to remove the tree from your property and avoid further damage while doing so.
---
Chevy Chase, MD is located along the northwest border of Washington, DC. Chevy Chase was previously farmland until roughly 1890 when it became a residential area for many who worked in Washington, DC.